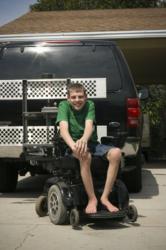 I would still be carrying Tyson around in my arms and he wouldn't have the independence like most teenage boys do without the help of Ability Found.
Salt Lake City, UT (PRWEB) October 04, 2012
Melanie Hansen had been preparing for her son's death for the last decade following his diagnosis of terminal "leukodystrophy" at age two. Doctors told Hansen that her son wouldn't live past the age of seven, and she was warned that buying assistive equipment for him that her insurance wouldn't cover, such as a power wheelchair, wasn't worth it. Last year, however, Melanie learned that her son's diagnosis was incorrect, and that he'd live past age thirteen—a life expectancy estimated by doctors when Tyson turned seven. A new diagnosis of non-fatal "bilateral frontal parietal poly microgyria" left Melanie with the task of preparing for her son's life, instead of his death, and Tyson without the equipment that would allow him mobility and independence in his newly discovered life.
After learning of his story, the nonprofit organization Ability Found donated a power wheelchair lift to Tyson so that his power wheelchair can be easily loaded into the family car. Without the lift, Tyson is limited to using a manual wheelchair in public places, requiring that someone push him when he goes out, and preventing him from going to the same places that other boys his age do.
"Without this lift, Tyson is limited to using his power chair just around his neighborhood," said Michael J. Workman, PT of Ability Found. "Now, he has the ability to take it anywhere he wants to go. This is a huge step in creating a higher quality of life for Tyson by providing him freedom and independence."
The first place Tyson wanted to take his power chair to was the grocery store, knowing that his mother would no longer struggle to push him around in his manual wheelchair while also pushing a shopping cart. Since Ability Found's donation, Tyson has also used his wheelchair lift to take his power chair on his first camping trip and to the Lagoon amusement park.
"I grieved as he grew, and helped him get around by carrying him his entire life," said Hansen. "Our insurance wouldn't cover assistive equipment, and I had no idea where to turn for help. I would still be carrying Tyson around in my arms and he wouldn't have the independence like most teenage boys do without the help of Ability Found."
Ability Found is a nonprofit organization that provides wheelchairs and assistive equipment to people with disabilities who can't afford them. Established in 1993, Ability Found relies entirely upon donations to purchase and refurbish the wheelchairs and equipment they donate. In 2011, the organization donated 92 percent of their $1.2 million income to charitable purposes. For more information and to donate to Ability Found, visit AbilityFound.org or Like them on Facebook at Facebook.com/AbilityFound