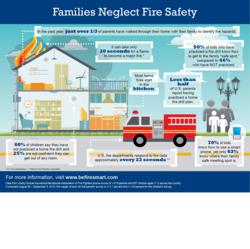 Practice can mean the difference between life and death. The majority of children are learning about fire safety at school but there is a big difference between an orderly school evacuation in daylight and knowing how to safe.
(PRWEB) October 04, 2012
This Saturday, October 6th, is National Family Fire Drill Day and new survey findings emphasize that practicing a home fire safety drill can make all the difference:

Of children who have practiced their escape plan, 84 percent are confident that they can get out of any room in their house during a fire emergency and 90 percent know how to get to the family meeting spot outside the home.
While 81 percent of parents believe that their child knows what to do if there is a fire in the house, only 40 percent of children surveyed say that they have practiced a home fire drill.
Only 36 percent of parents report walking through their homes with their families to identify fire hazards.
The survey precedes Fire Prevention Week, October 7-13, and kicks-off National Fire Safety Month. All of the interactive tools to create a family fire safety plan, including a fire safety video, infographic and checklist and more, is available through http://www.practicefamilyfiredrills.com. To incentivize families to focus on fire safety, Liberty Mutual Insurance will reward one family with a vacation trip to the Walt Disney World® Resort in Florida. Families can enter to win at BeFireSmart Facebook Page.