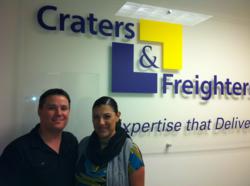 Houston, TX (PRWEB) October 04, 2012
Patrick and Yezbel Garcia have purchased the existing business that has been servicing the Houston area for twenty years.
"We are excited to have the Garcia's as a part of our team. Patrick and Yezbel have a combined freight industry background of 35 years, specializing in large shipments going in and out of Mexico, and will continue to grow the Houston market with a focus in industrial crating and shipping," said Rick Robinson Chief Operating Officer for Craters & Freighters.
Since 1990, Craters & Freighters has specialized in custom packaging, crating and shipping needs for businesses and consumers. Clients include world-class museums, medical companies, telecommunications, aerospace, biotechnology and heavy equipment firms.
From Rembrandts and Van Gogh's to flight simulators and server racks, Craters & Freighters packs, crates and ships it all!