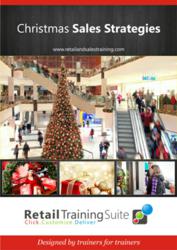 Retailers must ensure they're in the best possible position to benefit from the increased foot traffic and sales projected this Christmas holiday season.
(PRWEB) October 11, 2012
The official holiday season is almost upon us and there is a lot retailers can be optimistic about. With both increased foot traffic and sales projected, retailers must ensure they have a sound retail strategy and provide top notch retail training to prepare for Christmas sales.
Even though all signs point to positive sales, retailers can't become complacent. The clear winners over the holiday season will be those who have invested in retail training and planned their retail strategy. Unfortunately, some retailers will invest more time and energy decorating their store than training their staff.
According to ShopperTrak, a retail technology company that tracks and analyzes retail statistics, sales are forecasted to rise 3.3 percent during November and December. ShopperTrak provides three reasons for this projection. Firstly, there are two extra weekends over the holiday period, and weekends are typically bumper shopping days. Secondly, there are thirty-two days between Black Friday and Christmas, the longest interval possible. Finally. Hanukkah falls 11 days earlier than last year. See the attached infographic for a full list of shopping statistics ShopperTrak forecasts.
According to ShopperTrak, holiday sales and foot traffic historically account for about 20 percent of annual retail activity. Retailers that trade well over this period set themselves up for the year ahead, while those that trade poorly may not make it past February. Authentic Training Company Founder Melissa Davies says – "Retailers need to ensure they are in the best possible position to benefit from the increased foot traffic and sales projected. There are some really simple steps managers can take to maximize sales". The Authentic Training team developed a Christmas retail strategy and retail training package to help retailers plan their Christmas sales. The package provides the structure, tools and inspiration to help Retail Managers take control of their sales. It also includes a training program developed specifically for retail staff working over the holiday season. Because customers shop differently over this period, the package is tailored to the needs of the Christmas shopper and provides selling tips to maximize basket size. "Our package makes it easy for retailers to achieve greater sales this Christmas. It's based on sound retail strategies that are simple to implement", says Melissa. Retailers are encouraged to invest a few hours now, planning their sales strategy and training their team, rather than focusing all their efforts on store aesthetics.
Further information:
Authentic Training specializes in developing innovative retail and sales training packages that small business owners, managers and trainers can deliver themselves. Their vision is to provide a suite of tools that empower retail teams to achieve unprecedented levels of success and professionalism.
Melissa Davies, Company Founder
Authentic Training
http://www.retailandsalestraining.com