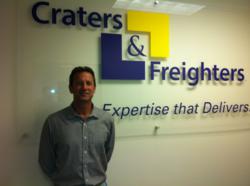 Chicago, IL (PRWEB) October 04, 2012
The leader in custom Packaging, Crating & Shipping with locations across the U.S., has a new owner for the South Chicagoland area.
Randy Bilthouse has purchased the existing business that has been servicing South Chicago and Northwest Indiana for 14 years.
"We are excited to have Mr. Bilthouse as a part of our team. With his extensive background in business development, manufacturing and construction supply, we know he will continue to grow this important territory, by expanding the Craters & Freighters brand", said Rick Robinson Chief Operating Officer for Craters & Freighters.
Since 1990, Craters & Freighters has specialized in custom packaging, crating and shipping needs for businesses and consumers. Clients include world-class museums, medical companies, telecommunications, aerospace, biotechnology and heavy equipment firms.
From Rembrandts and Van Gogh's to flight simulators and server racks, Craters & Freighters packs, crates and ships it all!