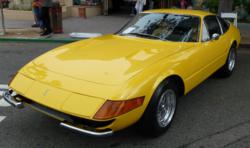 Monte Sereno, California (PRWEB) October 05, 2012
The My Car Quest Classic Car Value Survey will be posted on My Car Quest on Friday October 5 and will be available there for a few days. Anyone may visit My Car Quest and participate in the survey.
The classic car market is exploding and values of certain models continue to increase every year while other models stay the same, or even decrease in value. Classic car collectors and enthusiasts are curious about the value of collector cars and how they change over time.
The My Car Quest Classic Car Value Survey is designed to shed some light on this important trend. The results of the survey will be posted on My Car Quest three days after the survey ends.
About Mike Gulett
Mike Gulett writes about classic cars, race cars, other cars that interest him and the people who made or drove those cars. He is also a car collector and writes from the perspective of a collector and an enthusiast.
He has more than thirty years experience in the technology business with fifteen years experience as either the President & CEO or the President & COO.
Gulett started publishing his blog, My Car Quest, in November 2010 and has lived and worked in the San Francisco Bay Area for many years where he still lives with his wife and a few cats.
He recently published "Twenty-Five Affordable Classic Cars" available as an eBook from Amazon.
Contact: Mike Gulett
Email: mike(at)mycarquest(dot)com
Mobile phone: 408-406-5439
Monte Sereno, California 95030 USA
###