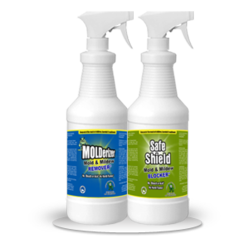 ...apart from reducing mold removal cost, they [Molderizer and Safe Shield] also prevent more expenses either for medical treatment or furniture replacements.
Chicago, IL (PRWEB) October 11, 2012
Mold removal cost is affected by a lot of things. Mold remediation products are among them. They can either increase or decrease the amount one will need to clear mold effectively. And wanting to help the public keep their mold treatment expenses at a minimum without compromising its effectiveness, Molderizer suggested the use of its own non-toxic mold sprays. Additionally, it encouraged the early purchase of them to get the 31% Halloween discount.
Grab a Sample of Molderizer's Mold Sprays Today
Because mold growth is triggered by moist and because moisture is everywhere, mold infestation can happen anywhere. And worse, it can affect any item regardless of what material it is made, making it look unsightly and unkept.
But apart from that, mold also brings in health problems. Exposure to the spores could cause allergies and breathing difficulties. Some species of it are even toxic and could cause more serious health conditions.
Given those negative effects, it is, therefore, important to treat mold infestation as soon as possible. Otherwise, the structural value of its infested items and the health of anybody who could be exposed to it will be compromised, said Molderizer. And so, it suggested the use of mold sprays for an immediate and inexpensive yet effective mold treatment.
Nevertheless, Molderizer said that not every mold spray available today is good enough. It stated that most mold solutions one could now purchase are made with harmful chemical ingredients. The use of them could bring in more health problems than help, it added.
So, for mold remediation products that will truly help implement a successful mold treatment, the company suggested its own mold sprays. It said that with them, any mold sufferer and mold contractor would have an easy, effective and inexpensive trick to eliminate mold presence. And because they are organic-based, with them, users can also protect their health and even that of others.
Check Out the Specific Benefits of Molderizer's Mold Sprays
With those benefits, the products, named as Molderizer and Safe Shield, are generally money savers said the company representative. That's because apart from reducing mold removal cost, they also prevent more expenses either for medical treatment or furniture replacements.
Besides that, Molderizer now offers them with 31% discount. The rep explained that the price-cut is the company's early Halloween treat. He added that a buyer just needs to type in coupon code "halloween" to bag the said price-cut. And with it and the products' effectiveness and greenness, he asserted that Molderizer and Safe Shield are truly the best mold sprays that anyone can now purchase.
Make Your Mold Treatment Green. Order Molderizer and Safe Shield Today and Get a 31% Price-Cut