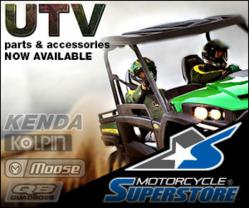 "In order to continue improving the online shopping experience for all of our customers, it was clear the addition of a dedicated UTV division was necessary. We have now created a one-stop shop to house our huge assortment of UTV-specific equipment."
Medford, OR (PRWEB) October 04, 2012
Motorcycle-Superstore.com, the nation's leading motorcycle and powersports gear and accessories retailer, has added a new department catering specifically to UTV and Side by Side enthusiasts (click here: UTV Department). UTVs have become an extremely important part of the powersports market, with UTV sales eclipsing ATV sales in 2011 (with 280,000 units sold), and UTV sales forecasted to exceed 370,000 units per year by 2015. These specialized all-terrain machines require very specific parts, accessories and tires, so Motorcycle-Superstore.com has created a new department to make it easy for UTV owners and enthusiasts to find exactly what they need for their machines in one convenient, easy-to-navigate section of the website.
UTVs are popular as recreational off-road vehicles, tackling everything from sand dunes to frozen tundra, but many of these machines are put to work managing lands, hunting, maintaining recreational property and more. The range of bolt-on accessories designed to increase the utility of Side by Sides and UTVs is huge, including plows, winches, racks, hunting accessories, luggage, auxiliary lighting, roll cages, fire extinguishers, heaters, exhaust systems and much more. These four-by-four machines also require very specific tires to tackle every kind of terrain imaginable, as well as model-specific aftermarket parts to keep them performing at their peak.
"UTVs and Side by Sides are the fastest growing segment of the powersports industry," said Greg Anderson, Motorcycle-Superstore.com's Sales Manager. "In order to continue improving the online shopping experience for all of our customers, it was clear the addition of a dedicated UTV division was necessary. We have now created a one-stop shop to house the huge assortment of UTV-specific equipment we offer."
Side by Side and UTV enthusiasts can explore this new department at Motorcycle-Superstore.com by following this link: http://www.motorcycle-superstore.com/13/DVG/UTV.aspx