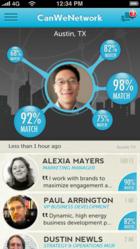 "We chose to work with CanWe Studios because their groundbreaking approach to social engagement brings a new level of consumer understanding of our products." Leslie Sobon, corporate vice president, AMD
Austin, TX (PRWEB) October 04, 2012
CanWe Studios LLC and AMD today announced they will work together in a unique way to transform how influencers and consumers connect during Austin City Limits. CanWeNetwork, a geospatial business networking app, will provide AMD with valuable business intelligence and a new mobile social channel through a large-scale social media marketing and branding campaign targeting the tech start-up and music scene.
"The launch of the 2nd generation AMD A-Series APU once again demonstrates how AMD's innovative technologies are improving how we live our lives and conduct business," said Leslie Sobon, corporate vice president, Desktop Product Line, AMD. "We chose to work with CanWe Studios because their groundbreaking approach to social engagement brings a new level of consumer understanding of our products."
CanWe Studios, a big data and mobile startup, launched CanWeNetwork last month, bringing a B2B evolution to geospatial technology. The app is powered by a recommendation engine that uses cutting-edge algorithms to build complex models of users by augmenting data from LinkedIn, through its Open Developer Program, alongside other sources. It then applies statistical analysis to these models to predict the kinds of people users are likely to succeed with. CanWe Studios' participation with AMD is the first B2B engagement for CanWe Studios and allows it to showcase how it uses valuable business intelligence and the immediacy of mobile to create timely, positive and relevant interactions between organizations and their target audiences.
AMD's Austin-focused campaign centers on sponsorship of the Austin City Limits music festival and a digital engagement campaign to support the launch of the 2nd generation AMD A-series Accelerated Processor Units (APUs).The campaign will build awareness amongst the Austin tech and digital scene of AMD's innovative technologies and products.
CanWeNetwork will identify the people AMD could reach and provide a platform for connecting with them, giving consumers the power to control how and when they are able to interact with AMD.
"Social networks and the ubiquity of smartphones are transforming how people interact with companies and how they make purchase decisions," said James Sinclair, vice president, CanWe Studios. "We see AMD as an innovator in the next era of digital experience and are delighted that a company recognized for leadership and innovation has chosen CanWeNetwork to help drive mobile marketing engagement".
"Increasingly, users are gravitating to the mobile device as their computing platform of choice, therefore, brands and their content should be meeting these users where they shop, play, find information and connect to their social graph" said Chris Silva, Analyst, Altimeter Group*. "In short, mobile should be the force driving the hand of more dynamic content and, by extension, a more dynamic customer and user experience."