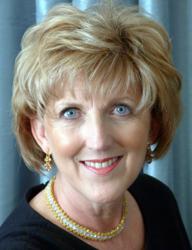 "As a new very energetic institutional member we want to play our part and do our best to contribute to the MBAWI's annual conference," says Doug Guthrie, Dean of GWSB.
Phoenix, AZ (PRWEB) October 04, 2012
MBA Women International (MBAWI) announced today that The George Washington University School of Business (GWSB) and the International Women's Forum (IWF) will partner with MBAWI to promote On the Board, Advancing Women's Corporate Board Leadership. Developed and managed jointly by GWSB and IWF On the Board is an elite fellowship program that aspires to expand women's participation on corporate boards. In its inaugural year, 15 high-achieving women leaders will be accepted into the program, and upon completion, On the Board will work to place its board-ready candidates on Fortune 1000 corporate boards. The first incoming class of On the Board fellows will be announced at the end of November.
Dr. Liesl Riddle, GWSB's Associate Dean of MBA programs & Associate Professor of International Business & International Affairs, will speak at MBAWI's annual Leadership Conference & Career Fair about the brand-new program, which officially launches on February 21, 2013.
"There is a natural alliance between our work to get more women into the leadership pipeline, into the C-Suite and onto corporate boards and George Washington's new On the Board fellowship program will train them to excel into their role of corporate board member," says Gail Romero CEO MBAWI. "We are delighted that this prestigious institution has selected our annual Leadership Conference to assist in promoting this opportunity to our global membership and corporate partners that desire leadership advancement and gender parity of corporate boards. It is not only the right positioning for corporations and a great opportunity for women, it is also about the end results, a better return on equity for the shareholders, so it becomes a big win all around."
This program comes at a critical time in U.S. corporate governance. Women make three quarters of consumer purchasing decisions despite being greatly underrepresented on corporate boards. According to an August 2012 Catalyst study, women make up only 8.3% of Fortune 500 lead directors, which has decreased from 8.8% in 2010. Currently white men make up nearly 75% of Fortune 500 board members, women- of all races- make up 16%. There are only 3% of board seats held by women of color, with an astonishing 71% of Fortune 500 companies without any women of color directors serving on their board.
"As a new very energetic institutional member we want to play our part and do our best to contribute to the MBAWI's annual conference," says Doug Guthrie, Dean of George Washington University's School of Business. "We are thrilled to be given the opportunity to share our new program with these driven, passionate women who are potential board members." Program partner Deedee Corradini, President of the International Women's Forum says, "I join Dean Guthrie in thanking MBAWI for its important work and for embracing the unfinished business that On the Board aims to address: advancing women leaders onto corporate boards."
MBAWI will host its annual Leadership Conference and Career Fair October 18-20 in Phoenix, Arizona.
ABOUT MBA Women International
MBA Women International is a not-for-profit organization dedicated to the advancement of business women as corporate leaders, executives and entrepreneurs- enriching workforce diversity around the world.
It serves four related client groups: female MBA students, female business professionals and entrepreneurs, universities and corporate partners.
Visit http://www.mbawomen.org. To find out more about joining a MBA Women International student chapter or a professional chapter contact: membership(at)mbawomen(dot)org.
Media Contact: Susan Assadi
800 922 8792, susan(at)assadi(dot)com
Gitenstein & Assadi PR
MBAWI Corporate Sponsor Contact: Natalie Block, Executive Assistant to the CEO
natalie(at)mbawomen(dot)org
George Washington University School of Business Contact:
Dustin Carnevale, Director of Media Relations
202-994-3674,dcarnevale(at)email.gwu(dot)edu