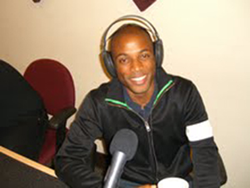 The great thing about Uber is that you can use it in every city.
Atlanta, GA (PRWEB) October 04, 2012
On October 3, 2012, co-hosts Lee Kantor and Stone Payton welcomed to the studio Keith Radford with Uber. Radford appeared on BusinessRadioX®'s Emerging Enterprise Radio to explain how Uber is changing the car service industry through technology.
Uber operates on a Request from Anywhere at Any Time system. Clients can download Uber's app onto an iPhone or Android or place a request on m.uber.com, set their pickup location on the map, and Uber will dispatch the nearest driver to pick the client up. There will also be a text sent with the estimated arrival time. When the car arrives, the client gets another text.
After the ride, Uber will automatically charge the credit card placed on file. There's no need to hand the driver any payment, and the tip is included.
Prices start with a base fare. After that, the charge depends on speed. When travelling at over 11mph, Uber charges a distance fee. Below 11mph, they charge a time fee.
Uber service is available 24 hours a day, 7 days a week and operates in San Francisco, New York City, Seattle, Chicago, Boston, Washington, DC, Paris, Toronto, Los Angeles, Philadelphia, Dallas, San Diego, Denver, Atlanta, and London. Says Radford, "The great thing about Uber is that you can use it in every city."
To learn more about Uber's unique approach to on-demand car service, tune in to Emerging Enterprise.
About Emerging Enterprise Radio:
http://www.emergingenterprise.businessradiox.com
Co-hosts Lee Kantor and Stone Payton feature high-growth companies and their trusted advisors. Airs LIVE weekly on Wednesdays at 1pm Eastern.
About BusinessRadioX®:
BusinessRadioX® provides a turnkey solution for business owners who want to leverage the power of internet radio to meet their best prospects, establish credibility for their organization and heighten the placement of their brand in search engines rankings. With a professional venue and a proven formula, BusinessRadioX® helps hosts podcast their shows and create a regular stream of dynamic content to share with their prospects and feed the search engines every week. Programs are recorded and streamed live to the internet from our studios in the greater Atlanta area. For more information or to hear a live show, visit: http://www.businessradiox.com.