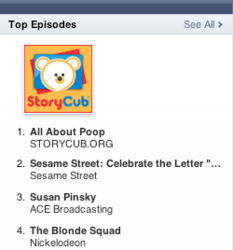 iTunes rated StoryCub -New & Noteworthy- and -What's Hot-.
Minneapolis, MN (PRWEB) October 04, 2012
Dave Swerdlick, the multi-award-winning creator of the Kid Friday podcast (#1 Tech Podcast for kids, props from ABC & CBS) is at it again with his latest creation, StoryCub.
We live in an age where videos are often the fastest and easiest ways of keeping kids entertained. StoryCub's goal is to use the power of fun, free, digital video stories to direct our children's' attention back to books. They are designed to get the child interested in, and familiar with, the actual story, so that they can look forward to reading a physical copy of it later.
Each StoryCub video is a live person reading a short, children's book, that includes vibrant illustrations of the book, as well as some time spent on the reader.
StoryCub is a valuable tool not only for helping with children's' reading skills, but for motivating them to keep reading for the love of the story. There is no better way to get kids excited about reading, than through the interaction between a parent and a child, and StoryCub helps to make this interaction fun, educational, entertaining, and inspirational.
Right now every episode is available at Apple's iTunes Store, where parents can download it for free and share with their children. iTunes rated StoryCub "New & Noteworthy" and "What's Hot".
If a child likes a StoryCub video, they'll LOVE reading the book.
"Entertaining Story Segment(s) to Engage Young Children"
-Society of Children's Book Writers and Illustrators (scbwi)
"StoryCub is different from any other program that features children's books…Coming from a TV production background, I also appreciate the excellent production values."
-Gerry Renert, Mom's Choice Gold Award-Winning Children's Author and 3X Emmy-
-Nominated Children's TV Producer
"I Love That This Promotes Real Reading - Bravo For StoryCub"
-iTunes Review
Free Downloads: http://bit.ly/freestories Photo: http://bit.ly/PIKuCl
Webpage: http://www.storycub.org/ Logo: http://photobucket.com/storycub