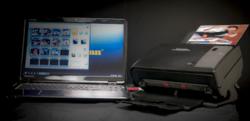 The applications for this technology are endless.
ALTAMONTE SPRINGS, Florida, (PRWEB) October 04, 2012
EZPhotoScan.com announced today that it will offer up to a $325 savings on pre-release orders for the recently unveiled third-generation of Kodak Picture Saver Scanning Systems. The PS80 and PS50 scanners, showcased at Photokina 2012, are due for release by mid-October. Riding in on the coattails of the successful, best-in-class first and second generation Picture Saving Scanning Systems, the PS80 and PS50 scanners offer enhanced capabilities for acquiring and managing photographs, documents, and scannable memorabilia, unprecedented in the high volume photo scanning market today.
EZPhotoScan.com founder and owner Richard Lippert says the innovative features of these third generation scanners are surprising the imaging community, still giddy over the first-of-its-kind technology made available with earlier generations of Picture Saver Scanning Systems.
"The applications for this technology are endless," Lippert says. "We have a discerning customer base that has embraced this line of scanners because they can accomplish tasks that no other scanners can touch."
Lippert, whose EZPhotoScan.com team of scanning professionals has already begun working with the PS80 and PS50 systems, says the systems' technology takes scanning to whole new level.
In addition to the Kodak-designed transport system that treats each photo with extra-gentle care, the PS80 and PS50 employ technologies like Image Guide to eliminate streaking on images, high accuracy LED light sources offering stable, precise illumination, and the new Photo Selector accessory option.
Lippert calls the PS80 and PS50 two of the most versatile tools for scanning photos and treasured memorabilia on the market. The addition of the new Kodak Photo Selector accessory makes operations move even more smoothly by eliminating the need to remove photos from albums, scrapbooks or protective sleeves before scanning.
The Photo Selector software works by identifying and selecting individual images within the original scanned image. After the images are separated and saved, the Kodak Picture Saver Scanning Software provides image enhancement tools, including red-eye removal. Perfect Touch technology can be used to enhance newer photos and restore older ones by reversing fading and improving contrast and color balance. Users simply attach either the legal size or A3 flatbed accessory to their scanning system to scan full photo album pages, oversized documents or books.
"This is a godsend for businesses and service providers who create photo collages for weddings, memorial services, and other events," Lippert says. "Customers can simply drop off or mail photos to service providers to make digital copies quickly, cost efficiently, and expertly."
The PS80 and PS50 Picture Saver Scanning Systems both offer duplex batch scanning at higher throughputs than earlier models, as well as easy-to-use features that help users get started without excessive setup or training.
The PS80 features inline image sharpening and continuously feeds stacks of up to 50 mixed sized photos at 85 photos per minute (4 inch x 6 inch) at 300 dpi resolution. The PS50 also feeds up to 50 photos per minute (4 inch x 6 inch) at 300 dpi resolution, and sharpens photos after the batch scan is complete. Both are capable of scanning at on optical resolution of 600 dpi and an interpolated resolution of 1200 dpi.
"We are making the presale discount available right up until our inventory of production scanners arrive in-house, as an added incentive to reserve a model in advance," Lippert says. "With each generation comes new scanning technology that no one else has, and we pride ourselves in finding the most sophisticated technology to meet our customers' needs.
"The PS50 and PS80 are both ideal for commercial projects and for hobbyists who are archiving family photos and creating photo CDs, which is the latest trend for affordable holiday gifts."
For more information on the pre-release discount on the PS80 and PS50 scanners, visit the EZPhotoScan.com website, call 1-866-562-4660, or Email info(at)EZPhotoScan(dot)com.
About EZPhotoScan.com:
Founded by owner Richard Lippert in 1995, EZPhotoScan.com has turned the task of managing documents into an art form. The EZPhotoScan.com group was formed to offer best-in-class solutions for scanning pictures, printed memories, and sensitive documents. EZPhotoScan.com provides full service assistance to individuals looking to do their own scanning, have it done for them, or start their own conversion service.
About Kodak:
As the world's foremost imaging innovator, Kodak helps consumers, businesses, and creative professionals unleash the power of pictures and printing to enrich their lives.
###