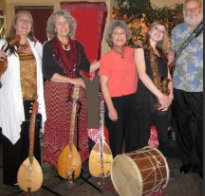 Santa Fe, New Mexico (PRWEB) October 03, 2012
Celebrate Halloween Balkan-style with the exciting and exotic music of Albuquerque's premier Balkan dance band GODDESS OF ARNO! Performing upbeat dance tunes and traditional songs from Albania, Macedonia, Serbia, Greece, Bulgaria and Hungary –many in the Rom (Gypsy) style and language- this award-winning 6-piece ensemble accompanies beautiful solo, 2, 3 and 4-part vocals with traditional ethnic string and percussion instruments as well as violin, guitar, saxophone, electric bass & accordion. THE ROMATICS, ABQ's newest, youngest and hottest Balkan band will also be joining Goddess of Arno on many pieces throughout the evening. Folk-dancer Patsy Gregory will give a "quick-teach" session to live music from 7:15 – 8 p.m. and then she'll lead traditional dances on Winning's great wood floor. You can dance your own dance – or just sit, relax and enjoy the music, ambiance -perhaps with one of Winning 9;s great beverages or snacks (for purchase). The 16th Annual Halloween Balkan Bash will also feature Halloween decorations and a costume contest with prizes for the best costumes (costumes are optional, but highly encouraged). Admission is $5.00 at the door, kids 12 and under get in for free. This event is featured on the SantaFe.com event calendar.
Goddess of Arno's band personnel:
Leanne Mennin–percussion (tupan, daide & doumbek) & vocals; Barbara Friedman–electric bass, Bulgarian & Macedonian tamburi & vocals; Beth Cohen–violin, guitar, Macedonian tambura & vocals;
Randy Edmunds-guitar, Macedonian tambura & vocals; Jamie Edmunds-alto sax, accordion & vocals; & Mary Masuk-percussion (riq, doumbek,daide & cymbal).
THE ROMATICS: Ella Brown-bass & vocals, Sara Friedman-trumpet & vocals, Joey Friedman-clarinet, alto saxophone & vocals, Ram Goradia on drum kit.
For more information about The Annual Halloween Balkan Bash, The Annual Spring Balkan Dance and GODDESS OF ARNO please contact: Beth Cohen at (505) 243-6276 E-mail: cohenedmunds at newzero dot net
About SantaFe.com:
SantaFe.com provides locals and visitors to Santa Fe alike the most current interactive platform for events, music, arts, business, dining and lifestyle. SantaFe.com is a division of Hutton Broadcasting, located at 2502 C. Camino Entrada, Santa Fe, NM 87507
Contact Information:
Scott Hutton
SantaFe.com / Hutton Broadcasting
http://www.santafe.com
(505) 471-1067 (Media inquiries only, please)