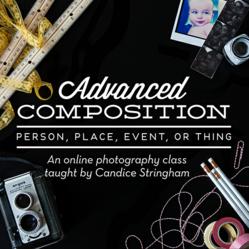 Apex, NC (PRWEB) October 08, 2012
JessicaSprague.com, the leading website offering online classes and products for digital crafters, has added a new photography class to their already impressive lineup – Advanced Photography Composition - Person, Place, Event, or Thing.
In this four week photography class with Candice Stringham, participants will learn about basic compositional rules, color theory, editorial portraits, photographing an event, compositional rules on location, and tabletop photography techniques. The class will:

Review in more detail basic compositional rules
Address color theory and how it affects the mood and look of a photograph
Learn about photographing an editorial portrait
Learn about how to photograph an event
Learn about compositional rules when photographing a location
Learn tips about tabletop (small items) photography techniques
The course is four weeks long, with an assignment, video, and PDF lesson each week. And remember, unlike other photography websites, participants own the class, there is no time limit to the materials!
The class begins October 22nd with registration opening October 8th. Click here to learn more and to register.
About Candice Stringham
Candice Stringham is an editorial photographer turned scrapbooker. She is a former Contributing Editor for Creating Keepsakes Magazine and was inducted into the Creating Keepsakes Hall of Fame in 2006. Candice Has a BFA in Photography and taught at a collegiate level after she graduated. She has also been teaching live workshops for Canon for the past few years. She is excited to be teaching at Jessica's website because helping people learn how to use their cameras is one of her greatest joys! Adventurous, but down-to-earth, Candice loves to read, watch old movies and musicals, read anything Jane Austen and create fun projects and traditions with her family. She recently moved from Brooklyn, NY to San Antonio, Texas with her three sons and husband. Learn more about Candice at her blog.
About JessicaSprague.com
JessicaSprague.com is the leading website offering online classes and products for digital crafters. Founded in 2007 by world-renowned crafter, scrapbooker, instructor and author Jessica Sprague, JessicaSprague.com provides professionally designed, video-based online classes in Photoshop and Photoshop Elements for customers interested in learning about digital scrapbooking, photo editing, mouse-and-paper crafting, and more. The site's mission is to provide instruction, inspiration, and products to help people grow their skills, beautify their lives, and enhance their relationships with the people that matter most to them. The website's offerings include digital scrapbooking paper, digital brushes, digital element packs, lesson packs, weekly tutorials, and online classes in digital scrapbooking, mouse-and-papercrafting, photo editing, and more.