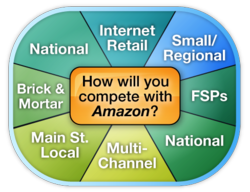 "Retailers must tightly integrate their in-store, mobile and local fulfillment strategies to encourage in-store mobile purchases from store or online inventory and discourage comparison shopping."
Natick, MA (PRWEB) October 09, 2012
The Internet Retailer, Fulfillment & Delivery Association (IRFDA) announced the publication of its white paper "Competing with Amazon: A Layered Strategy Model Built upon Low-Cost, Local and Same-Day Delivery Services." It is available immediately on its website http://www.irfda.com. The strategy framework applies as much to retailers and multichannel retailers as to pure internet retailers and their fulfillment service providers.
As Amazon builds out its domestic network of over 50 fulfillment warehouses to position its inventories within local markets, it is critical for internet retailers to develop their strategic approach to "local fulfillment." Multichannel retailers must also develop their own local fulfillment strategy to take advantage of their already locally-positioned inventories. The paper then describes multiple "integration" and "business" strategies that can be layered upon various strategies to local fulfillment. Steve Wilson, CEO of the IRFDA, explained that "a mere 10% shift of retail to a 'local fulfillment' business model by 2017 will more than double the current projected size of internet retail to $743 billion thus also doubling the market for eCommerce package delivery."
Whether the current approaches taken by Amazon, eBay and Google are successful or not, the sheer size of the ecommerce local and same-day delivery markets assures that the delivery service firms will eventually develop the low-cost, regularly schedule, local delivery services that internet retailers will demand. With this premise the IRFDA built a layered approach to developing the strategies for all types of retailers to compete against Amazon and other potentially dominant internet retail entities. Among other insights the paper predicts that large chains will come to dominate the fulfillment industry as they do in retail and that consortia of several hundred networked fulfillment warehouses could outperform even Amazon.
Media Contact
IRFDA
Steve Wilson, CEO
607-372-1643
swilson(at)irfda(dot)com
About IRFDA
The Internet Retailer, Fulfillment & Delivery Association was formed to help eRetailers and fulfillment service providers of all sizes compete with the competitive advantages that the largest eCommerce enterprises will develop with their ever expanding national footprints. We are working to maximize the value to the consumer from internet retail, fulfillment and delivery as a single system rather than 3 silos of individual industries. Visit our website at http://www.irfda.com for more information.
About Steve Wilson
Steve's broad technical and business experience has spanned postal automation systems, materials handling, manufacturing, telecommunications, information technology, and systems integration -- in U.S and international markets. This combination of logistics, IT and delivery systems experience provides the unique perspective that led to his innovative and extensive vision for internet retail back-office and delivery operations and the shirtsleeve experience to lead it to reality. He holds engineering and business degrees from Stevens Institute of Technology and Southern Methodist University respectively.