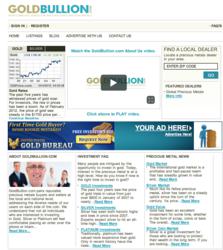 Fort Lauderdale, FL (PRWEB) October 04, 2012
According to a report published by DNSR, the Domain Name Sales Report, GoldBullion.com, a leading website that provides individual investors with information about gold bullion and access to precious metals dealers is going up for auction Monday October 8th at 3:00 PM (Eastern Standard Time) at the T.R.AF.F.I.C. conference which is being held in Fort Lauderdale, Florida.
GoldBullion.com, the domain, existing website, and business model, will be included in the upcoming auction at T.R.A.F.F.I.C., which officially kicks off on October 7, 2012 and will come to a close on October 10, 2012 in Ft. Lauderdale, Florida.
The owners of Goldbullion.com, Brian Styles and Sean P Sullivan who are based in Delray Beach, Florida, purchased the domain with the intent of developing it into a marketplace for gold bullion and other precious metals buyers and sellers to deal direct with one another at a fraction of the cost of doing business on eBay. The intended model was strategically designed to take a bite out of eBay's reported annual sales of more than three hundred million dollars. Another business owned by the partners has had tremendous growth in 2012 and now requires 100% of their time and attention. They do not expect to have the time to pursue the full development of the business for at least eighteen months, so that has led to the potential sale at auction.
The domain, GoldBullion.com, is incredibly desirable no matter whether the new owner chooses to adopt and continue on with the current business plan and existing website or not. The keyword term "gold bullion" has seen a massive amount of interest in the last eighteen months and the website itself has gained a lot of organic ranking within all search engines within the last six months.
The T.R.A.F.F.I.C. auction, which is partnering with Escrow.com, is being held at the Ritz Carlton Hotel in Ft. Lauderdale, which is the location of the entire conference and will begin on Monday, October 8 at 3:00 p.m. The auction accepts live bids from T.R.A.F.F.I.C. ticketholders present at the Ritz and bids by phone. Information regarding how to place a bid by phone can be found on the conference's website, http://www.targetedtraffic.com. GoldBullion.com is listed as Lot # 197 and will have a reserve price.
DNSR.com is a leading source for news and information regarding the domain aftermarket. DNSR, also known as the Domain Name Sales Report is based in Delray Beach, Florida.