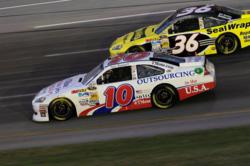 Mooresville, N.C. (PRWEB) October 04, 2012
TMone will help push David Reutimann and Tommy Baldwin Racing (TBR) at Talladega Superspeedway. Reutimann will look to best his 11th-place superspeedway finish he posted at Daytona International Speedway when he pilots the No. 10 CVP@TMone.com BPO Chevrolet this weekend in the Good Sam Roadside Assistance 500.
The No. 10 CVP@TMone.com BPO Chevrolet will carry the Facebook and Twitter logos to further the company's social reach which has a exploded as a result of TMone's NASCAR sponsorships. TMone is also promoting the CVP@TMone.com email as an invitation to companies to contact with TMone for a conversation or bid on domestic outsourcing. TMone specializes in business process outsourcing (BPO) and is in the business of augmenting and supplementing other companies human capital needs. TMone, recently announced the hiring of 400 more employees along with being on Inc. Magazine's Honor Roll List of Fastest Growing, Privately-Held, American Companies for the last six years.
"TMone has been ready for the Good Sam Roadside Assistance 500 at Talladega Superspeedway since we almost cracked the top-10 at Daytona in July," said Anthony Marlowe, President of TMone. "We almost won the Daytona 500 this year as an associate sponsor of TBR, if the race had ended under the red flag. In business and in racing, it never hurts to have some luck along with performance, and the restrictor plate tracks are the places CVP@TMone.com BPO is looking for some."
Reutimann posted TBR's season-best finish of 11th place in a TMone-backed Chevrolet in the Coke Zero 400 at Daytona International Speedway this July. This weekend, he will pilot the same chassis he raced at Daytona and will have Tommy Baldwin atop the pit box.
"Superspeedways are one of our strongest tracks," explained Baldwin. " We are thrilled to promote TMone at Talladega Superspeedway and hope that we can get a good finish this weekend. David will drive that same chassis we finished 11th with at Daytona at a track where we finished third last year, so we have high expectations this weekend."
Reutimann will hit the track Friday, October 5 for practice and will qualify the No. 10 CVP@TMone.com BPO Chevrolet Saturday. The 500-mile race will be held Sunday, October 7 at 1 p.m. EST.
About TMone:
TMone (pronounced T-M-one) is a leading in the USA call center business process outsourcing firm specializing in Customer Relationship Management (CRM), Software Integration, Inside Sales and Customer Service Selling (CSS). When it comes to business-to-business (B2B) and business-to-consumer (B2C) customer interactions, TMone is unsurpassed in its ability to provide best in class results in performance, cost containment, quality and client satisfaction. This approach has made it one of Corridor Business Journal's Fast Growing Companies 4 years in row and one of Inc. Magazine's Fastest Growing Private Companies in America six years in a row. Headquartered in Iowa City, Iowa with additional service delivery facilities in Des Moines, Iowa, Dakota Dunes and Spearfish, South Dakota TMone is now hiring.
To learn more about TMone, visit http://TMone.com, @TMone's Twitter http://Twitter.com/TMone, The TMone Racing NASCAR Racing Facebook http://www.facebook.com/TMoneRacing page or simply e-mail our Sr. Leadership team at CVP@TMone.com.
About Tommy Baldwin Racing:
NASCAR Sprint Cup Series (NSCS) Crew Chief Tommy Baldwin formed Tommy Baldwin Racing (TBR) in 2009. Baldwin utilized a declining economy to open a NSCS team with a stringent budget. The team worked to build to full-time competition, and by the 2011 season, the team's third season, TBR competed in every race and locked the No. 36 Chevrolet in the top-35 in NSCS Owner Points. Dave Blaney drove the No. 36 Chevrolet to TBR's highest finish of third in the October 2011 event at Talladega Superspeedway. TBR also fielded a second car for select races in the past two seasons with multiple drivers.
Based in Mooresville, N.C., TBR will compete in the NSCS in 2012 with NASCAR veterans David Reutimann and Dave Blaney. The team will also compete in the NASCAR Nationwide Series with Ryan Blaney, Bobby Santos and Ryan Truex.
For more information on Tommy Baldwin Racing, visit tommybaldwinracing.com or follow us on Facebook, facebook.com/TBR.HBR, and Twitter, @TBR_Racing.
###