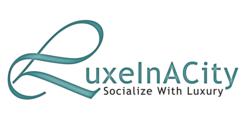 In our quest to map out the world one luxury brand at a time, we want to reach out to small boutique brands on the Hawaii Islands
Montreal, Quebec (PRWEB) October 04, 2012
In her quest to create the ultimate curated list of luxury brands, Roxanne Genier, President and Co-Founder of LuxeInACity, a new interactive guide to luxury cities of the world, will be visiting the Hawaii Islands for the entire month of October, stopping over on Big Island, Maui and Oahu. During her time in Hawaii, Roxanne will reach out to a select group of small boutique luxury brands in hopes of creating a long-lasting synergy. "After personally experiencing the luxury offering of more than 60 countries, I wanted to explore Hawaii to better understand its luxury market and its key players," said Roxanne Genier.
Catering to affluent travelers seeking the definitive Hawaiian experience, these luxury brands offer a truly unique offering to their clientele. As such they aim to service their patrons with great care, attention to detail and high standards and by utilizing the best materials, methods and resources available. These premium brands are vetted to provide the highest quality products and service and seek to be recognized as leaders in their field. "Creating a bespoke list of luxury brands is important to the success of LuxeInACity and there is no better way for me to create this catalog then by traveling directly to the destinations," commented Roxanne Genier.
Bridging the gap between affluent consumers and luxury brands at a local and international level is part of the mission of LuxeInACity. To be considered for inclusion in this bespoke list of the best of Hawaii, contact Roxanne directly at roxanne(at)luxeinacity(dot)com or at 1-808-339-5237.
About LuxeInACity.com
Launched in 2011 and with corporate headquarters in Montreal, Canada and Gothenburg, Sweden, LuxeInACity is a lifestyle magazine to luxury cities from around the world. Providing priceless information to affluent consumers and travellers worldwide, each luxury city guides features a curated list of premium luxury brands waiting to service the bespoke needs of these high-network individuals. To entertain these discerning consumers in their search, LuxeInACity provides an engaging, comprehensible website with insights on the world of luxury through several media channels, Luxe Blogs, Luxe Videos and Luxe News, and relating to several key luxury categories such as cars, yachting, art & culture, fashion, fine jewellery, watches, wine & spirits, hotels, villas and more. LuxeInACity connects luxury consumers with the luxury brands they love through an interactive web platform that facilitates both brand awareness and brand reach.