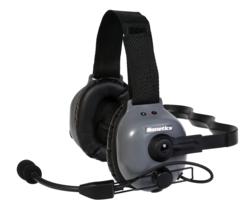 Portland, OR (PRWEB) October 04, 2012
Sonetics Corp., a leader in team communication solutions for challenging environments, has had wireless headsets selected as one of the Contractors' Top 50 New Products for 2012 by Equipment Today, a nationally recognized magazine for commercial construction contractors. Sonetics' Apex wireless headsets earned this recognition based on number of product inquiries, page views, and online voting by the magazine's 77,000 readers and online visitors.
Sonetics headsets are unique in their ability to deliver hands-free, full-duplex wireless communication, along with up to 26dB of noise reduction for teams of up to 40. Instead of relying on cumbersome push-to-talk radios, teams equipped with Sonetics headsets are able to communicate continuously, simultaneously and seamlessly.
"Two-way radios often result in garbled or missed information and require a free hand for push-to-talk operation," said Carl Azar, director of marketing for Sonetics. "Sonetics headsets increase safety, effectiveness and productivity for work crews. We are honored to have them included in the Contractors' Top 50 New Products for 2012."
To choose this year's award winners, the editorial teams from Equipment Today and ForConstructionPros.com summed up product inquiries, web page views and online voting from products featured in Equipment Today between May 2011 and April 2012. Additional information on Sonetics headsets can be found in the September print issue of Equipment Today, in a special online section at ForConstructionPros.com, or by visiting the Sonetics website.
About Sonetics Corporation
Sonetics is the leader in innovative and proven team communication systems for high-noise environments. Sonetics delivers the means for clear communication, essential for the productivity, safety, and effectiveness of work teams in industrial operations, public works, marine, construction, aviation, and firefighting. The company's systems, which include headsets and radio interfaces, ensure all team members can hear and be heard, even in the most challenging environments.
Twice named by Inc. magazine as one of America's 500 fastest-growing private companies, Sonetics helps more than 500,000 customers in 90 countries solve their toughest communication problems. Visit http://www.soneticscorp.com for more information, or follow the company on Facebook, LinkedIn, and Twitter @SoneticsCorp.
For more information, contact Karalee Sargent at Raffetto Herman Strategic Communications, PR firm for Sonetics Corporation at ksargent(at)rhstrategic(dot)com or 206-816-1895.