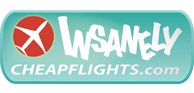 Jacksonville, FL (PRWEB) October 04, 2012
Flights leaving from Jacksonville, Florida are now on sale through InsanelyCheapFlights.com. The discount airfare site is offering a discount of up to $20 on all flights through December 31, 2012. To receive the discount, travelers simply need to log onto the site, conduct a search to find their preferred Jacksonville flight, and then apply the discount promo code ICF20 during the checkout process. The sale is good on both domestic and international flights leaving from Jacksonville.
"Many people have begun their search for cheap airfare for the holiday season," explains Steve Oliverez, of InsanelyCheapFlights.com. "With our Jacksonville airfare sale we are helping people keep their travel expenses lower. We realize that every little bit helps, especially during the holidays."
All flights leaving from Jacksonville are included in the airfare sale, including those leaving the country, direct flights, and those with layovers. The discounted airfare includes all the cities that are available for traveling, including such popular flight combinations as Jacksonville to Miami, Jacksonville to Atlanta, Jacksonville to Chicago, and Jacksonville to Las Vegas. Whether traveling from Los Angeles or to New York City, travelers can use the discount code to help find cheap airfare.
All flights into the Jacksonville area also qualify for the discounted airfare. Those traveling to or from the Jacksonville area will want to log onto the site, conduct a search for their dates, and then apply the code for additional savings. Complete airfare sale details can be found online at the company site. For more information or to view discount airfare opportunities, visit http://www.InsanelyCheapFlights.com.
About InsanelyCheapFlights.com
InsanelyCheapFlights.com provides discounted airfare to destinations around the country, as well as around the world. Users can log onto the site and search for cheap flights for their vacations, business travel, and more. Along with cheap airfare, they also provide access to booking discounted hotel room stays, as well as the ability to add discounted car rental. They provide a complete discounted travel booking site. For more information, visit the site at http://www.InsanelyCheapFlights.com.