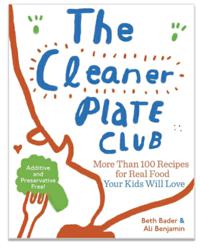 "Before you dismiss it as another finger-pointing, eat-your-vegetables parenting book, be warned: It's not. This book comes with lots of information, a witty sense of humor, and even an any-mistake-you-made-we-made-it-too attitude." — USA Today
Kansas City, MO (PRWEB) October 05, 2012
Bader's recipes will feature a kid-friendly fall kale salad loaded with apples, pears, pumpkin seeds and a tangy cranberry vinaigrette along with a seasonal hummus variation — sweet potato! Both dishes are easy and healthy ways to get kids or even veggie-adverse adults to enjoy fall's harvest. The kale salad is a perfect light Thanksgiving option as well!
Two other Kansas City chefs will be featured during the Harvest Celebration, Patrick Ryan of Port Fonda at 11 a.m. and Shannon Kimball of FireBug BBQ, at 2 p.m. The event will also include an antique tractor show and competition plus activities for kids including a barrel train, pumpkin painting and outdoor family games.
More information on the event is available on Powell Gardens' web site.
On Thursday, October 25, Bader will be featured as the keynote speaker for the 28th Annual Day Care Connection Provider Banquet. Her presentation will cover how to use fun to encourage healthier eating habits for young children. Attendees will receive two hours of licensing/CACFP credit in addition to some great tips for making meal time more enjoyable for everyone at the table.
About The Cleaner Plate Club
The Cleaner Plate Club, was favorably compared to Michelle Obama's American Grown: The Story of the White House Kitchen Garden and Gardens Across America by the Philadelphia Inquirer.
"It's [Michelle Obama's book] inspirational, but if you are seeking a more extensive collection of recipes and practical advice for feeding your children during the school year, consider The Cleaner Plate Club: Raising Healthy Eaters One Meal at a Time by working moms Beth Bader and Ali Benjamin (Storey Publishing, 2011)," writes reviewer Joyce Gemperlein.
The book has 100 seasonal recipes and over 300 pages of helpful tips, advice and cooking guides including an entire chapter on dealing with picky eaters. The authors' no-guilt, practical and humorous approach has garnered top reviews from publications such as The Chicago Tribune and USA Today.
More information and reviews for The Cleaner Plate Club are available on the web site, cleanerplateclub.com. The book is available from Amazon and Barnes and Noble online. It is newly available in both Kindle and Nook editions.