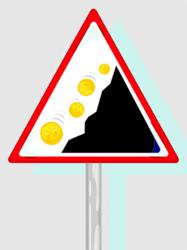 "Chinese stocks are currently taking it on the chin," says Clark. "… Especially with China's economic news showing such a dramatic slowing. This earnings season is likely to be choppy with a good degree of restraint in terms of visibility."
New York, NY (PRWEB) October 05, 2012
According to Mitchell Clark, financial expert and contributor to Profit Confidential, the stock market hasn't had much of pullback since the Federal Reserve met expectations with its announcement that there would be a third round of quantitative easing (QE3).
With more earnings warnings and weak economic data, particularly from China, Clark reports that the stock market is a little ahead of economic reality.
"Chinese stocks are currently taking it on the chin," says Clark. "… Especially with China's economic news showing such a dramatic slowing. This earnings season is likely to be choppy with a good degree of restraint in terms of visibility."
Clark also notes that for the last few quarters, railroad companies have been reporting declining volumes of coal, partially due to a slow U.S. economy but mostly because of cheap natural gas prices.
"Norfolk Southern Corporation announced that its third-quarter earnings will be lower than its 2011 third-quarter earnings, mostly due to volume declines of coal and merchandise," reports Clark.
In the article "Stock Market: Will it Heed the Warnings?," Clark concedes that there has been good news for this upcoming earnings season in spite of many meaningful earnings warnings.
"NIKE announced another share buyback program, totaling $8.0 billion over the next four years," points out Clark. "Over the last 10 years, it has purchased some $10.0 billion of its own shares, representing over 167 million shares."
However, Clark believes that overall, the stock market is a little ahead of economic reality. While other investors might like to be ahead of the current reality, Clark suggests a subdued outlook is more realistic because earnings aren't growing.
Profit Confidential, which has been published for over a decade now, has been widely recognized as predicting five major economic events over the past 10 years. In 2002, Profit Confidential started advising its readers to buy gold-related investments when gold traded under $300 an ounce. In 2006, it "begged" its readers to get out of the housing market... before it plunged.
Profit Confidential was among the first (back in late 2006) to predict that the U.S. economy would be in a recession by late 2007. The daily e-letter correctly predicted the crash in the stock market of 2008 and early 2009. And Profit Confidential turned bullish on stocks in March of 2009 and rode the bear market rally from a Dow Jones Industrial Average of 6,440 on March 9, 2009, to 12,876 on May 2, 2011, a gain of 99%.
To see the full article and to learn more about Profit Confidential, visit http://www.profitconfidential.com.
Profit Confidential is Lombardi Publishing Corporation's free daily investment e-letter. Written by financial gurus with over 100 years of combined investing experience, Profit Confidential analyzes and comments on the actions of the stock market, precious metals, interest rates, real estate, and the economy. Lombardi Publishing Corporation, founded in 1986, now with over one million customers in 141 countries, is one of the largest consumer information publishers in the world. For more on Lombardi, and to get the popular Profit Confidential e-letter sent to you daily, visit http://www.profitconfidential.com.
Michael Lombardi, MBA, the lead Profit Confidential editorial contributor, has just released his most recent update of Critical Warning Number Six, a breakthrough video with Lombardi's current predictions for the U.S. economy, stock market, U.S. dollar, euro, interest rates and inflation. To see the video, visit http://www.profitconfidential.com/critical-warning-number-six.