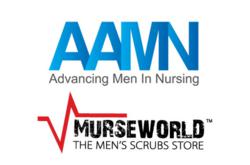 Until recently, the medical uniform industry had all but ignored the needs of men
Birmingham (PRWEB) October 04, 2012
The American Assembly for Men in Nursing (AAMN) and Murse World today announced the formation of a strategic partnership that will raise awareness of the needs of men in nursing and other healthcare professions.
Historically, men who become nurses have faced a variety of challenges. In the 1960s male nurses were commonly banned from delivery rooms and prohibited from treating female patients. In 1981, growing frustrations over the unequal treatment of men in nursing led to the formation of AAMN, a non-profit, professional nursing organization dedicated to the advancement of men in nursing.
In 2011, Murse World responded to the growing number of men in nursing by launching the world's first men's scrubs store. Prior to Murse World, scrubs retailers had focused primarily on women's products, often limiting men to so-called "unisex" scrubs that offered a boxy appearance and little in terms of comfort and style.
Today, AAMN members who shop with Murse World will begin receiving exclusive discounts on clinical apparel and accessories. Murse World will also become the exclusive provider of AAMN clinical apparel, affording members the option of showing their support for the organization by adding an embroidered AAMN logo to their scrubs.
"Until recently, the medical uniform industry had all but ignored the needs of men," said Murse World Co-Founder Scott Topiol. The company hopes that its partnership with AAMN will send a clear message to scrubs manufacturers that the current lack of availability is an important issue facing an increasingly large number of men in nursing.
AAMN believes that partnering with businesses that support the advancement of men in nursing will encourage others to follow suit. Before a company can receive the AAMN endorsement, they must demonstrate a clear commitment to the organization's mission. "We believe that one way to encourage more men to become nurses is by supporting businesses that share our members' needs and values," said AAMN President Bill Lecher.
According to the New York Times, men represent a growing minority within the traditionally female-dominated profession of nursing. In May 2012, the Times reported that while the number of male nurses in Texas had doubled during the period from 2000 to 2010, these men made up only 10.5% of all Registered Nurses in the State. Nationally, men make up approximately 7% of the nursing workforce, well over 200,000 men.
"We feel that encouraging our customers to become AAMN members is one way that we can help promote nursing as a career option for men who may not have otherwise considered it," added Murse World Co-Founder Alex Mayzels.
The American Assembly for Men in Nursing is a national professional nursing organization with local chapters. AAMN's primary priorities are to promote the recruitment and retention of men in nursing and to promote men's health. Those interested in learning more about AAMN, becoming a member or their upcoming 2012 Annual Conference, October 24-26 are encouraged to visit http://www.aamn.org.
Murse World is the world's first medical uniform store exclusively for men. They sell men's scrubs by popular brands such as Dickies, Cherokee, Landau, Koi, IguanaMed, Ecko Unlimited, Skechers, Med Couture and more, through their website at http://www.MurseWorld.com. Since their launch in 2011, Murse World has quickly become a uniform leader among men in nursing and other healthcare professionals.