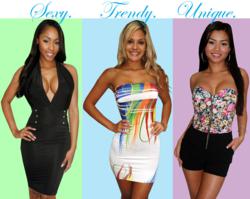 The company is run entirely by women and they believe that women are special
Tallahassee, Florida (PRWEB) October 06, 2012
Great Glam is an online store that have been selling womens clothing online since 1999. The company which is founded and owned by Danielle Tinsley offers an amazing variety of fashionable and trendy clothes for women ranging from party dress, plus size clothing for women, clubwear, sexy dresses, short dresses and high heel shoes.
Great Glam has a mission to make women look and feel great. The company is run entirely by women and they believe that women are special. According to them, what makes women unique is their femininity and the company aims to uplift and empower women by offering clothes that celebrate and honor the female form.
The company works with hundreds of fashion designers and manufacturers that are located in Miami, New York, Los Angeles and other fashion locations. Only the best and most stylish of creations are chosen to be sold on GreatGlam.com.
Many of these fashion design creations are unique as customers will not be able to find them anywhere else. Since these clothing are highly exclusive, they are available in limited quantities as the fashion designers only produce a certain quota. Once these designs are sold out, they are no longer produced.
Every week, more than 250 new designs are added to the site as the company is constantly offering the latest fashion look of cute dresses to their customers. Some of the Great Glam dresses have even been featured on MTV and Cosmopolitan Magazine.
Currently, GreatGlam.com is offering free shipping for any clothing order within the United States. International customers are not left out as shipping is free for orders of 4 or more clothing products from the site.
The company is committed to selling only the highest quality clothing for women. For customers who wish to view the actual clothing, Great Glam has retail locations in Florida. One of the retail store is located in Tampa University Mall (Burlington Coat Factory Wing) while another is located in Brandon Westfield Mall (Macy's wing).
To view the company's extensive range of affordable sexy, stylish and trendy clothing, please visit http://www.GreatGlam.com