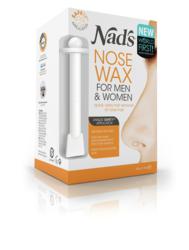 now available online at Nads.com and Amazon.com
Sydney, Australia (PRWEB) October 08, 2012
Brad Pitt is a gorgeous and sexy Hollywood icon, but even someone as good looking and confident as he is can still attract the media and public's attention to his nose hair issue!
Nad's, the hair removal experts just launched the ideal product for anyone like Brad Pitt who may need a little assistance in the nose hair grooming department. Nad's Nose Wax is a complete DIY nose wax for men and women that targets unsightly nose hairs around the edge of the nostril and blackheads on the surface of the nose.
Meanwhile, close-up photos popping up everywhere featuring Brad's bushy nose hair just highlight the fact that if someone as adorable and yummy as Brad Pitt can have a nose hair issue-who doesn't? It's a problem that not everyone talks about openly but that virtually everyone has to deal with…men, women and celebrities alike!
Anybody can use the Nad's Safetip™ applicator that comes with the specially formulated Nad's Nose Wax to easily remove the unsightly nose hair. It's fast and easy to use, too. Read the full instructions and watch the video in the Nad's Nose Wax product page.
In an attempt to be helpful, Nad's has sent some Nad's Nose Wax in the hopes that Brad can make himself sexier than he already is. After all, we all love Brad Pitt, but his nose hair..not so much.
You can buy the Nads Nose Wax at Nads.com or Amazon.com