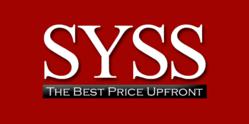 "Unfortunately most of the auction sites you see are buyers in broker's clothing. It's a sad fact of the times."
Crystal City, MO (PRWEB) October 19, 2012
(SYSS) a full-service broker of structured settlements, annuities and lottery winnings, requires their buyers to give the best price the first time.
"Too many companies weren't being fair with their customers. They would lowball the offer. Customers were upset that they didn't get everything they should have for their annuity and in the end felt like they were ripped off", says Nicholas Jackson, founder of SYSS: Selling Your Structured Settlement.
"When I decided to start this website, I received a lot of grief from insiders (I still do!). The nasty comments were just a spur in my side. I knew I had a winner. There are a lot of buyers in broker's clothing that parade as something their not. They wanted to see us fail because they're afraid of change. They bemoan the hold JG Wentworth and others have on the industry while striving for the same thing."
"For those wanting to use internet marketing tactics to trap people into doing business with them and bully the small guys like SYSS into playing ball," concluded Jackson, "be forewarned: SYSS can't be bullied, bought, or marginalized. We're a unique team. As I often say on the site, 'Change Happens'. Like it it not, things are going to change. The secondary market deserves more."
According to their website, Selling Your Structured Settlement (SYSS) has lined up "funders" who compete for the business of the client. These highly-qualified funders are required to send their best, upfront quote the first time. Where other 'auction sites' either broker to the bigger companies or have their own investor pool (in essence operating as a buyer rather than auction-house), SYSS has been able to combine both. The total price, including all fees if any, is clearly spelled out in each quote for the client to review.
Once the best offer has been determined, the client receives their quote and can accept or reject the quote at that time. The decision is the clients' alone to make based on raw information, not hype or sales tactics.
"Our goal is first and foremost our clients. I started this business for the client, not for the funder and their profit margins. We want the client to feel comfortable throughout the entire process, knowing they are getting the best price possible for their future periodic payments", Nicholas adds.
SYSS Website Gets A Facelift, New Features
The new website has a many new features, piquing interest from potential clients and casual web surfers alike.
"We have been working on the new site for a few months now. We listened to our clients and they almost unanimously voted for having a cleaner look to the site and more features to use for research. We accomplished this with a cool hidden drop down bar. This really cleans up the site and allows the information to be right-at-hand. So far, it's a hit!, " Nicholas adds.
Other site additions include:
1. Fresh content and in-depth research on the periodic payment market.
2. Social Networking and forums for better networking between visitors.
3. The site also contains an Structured Settlement Protection Act for all states who have authorized one. This makes researching individual state laws quick and easy.
4. A handy advice and news section, with articles written for the masses and not lawyers or search engines. This addition makes SYSS more appealing than some of its competitors.
Finally, the new site also utilizes the blog more extensively to communicate information to potential clients of all periodic payment columns. SYSS felt a personnel touch was needed, a place to speak directly to visitors and clients. By 2013 SYSS intends to publish at least one blog or news item on a daily basis. For staffing reasons, this wasn't possible before now. SYSS felt if they were going to undertake this effort, quality was more important than ever.
To learn more about Selling Your Structured Settlement, conduct research or get a quote please visit http://www.sellingyourstructuredsettlement.com