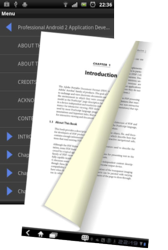 PDFViewer SDK: the fastest native PDF rendering library for Android and iOS platforms.
Reggio Emilia, Italy (PRWEB UK) 11 October 2012
GEAR.it recently collaborated with Radaee Studios to release the PDFViewer SDK. The PDFViewer SDK is a PDF software development tool that allows mobile users to manage, render, annotate, and add handwritten signatures to PDF files without additional third-party dependencies.
Both Android phones and tablets support the PDFViewer. The device is compatible with older and newer Android devices, from the Android 2.2 to the new 4.1 Jelly Bean.
Android developers can adopt Radaee's high-level classes directly into their applications. Key "out of the box" highlight features include:

Rendering in single or double pages
Styled page-change effects
Gesture support
Thumbnail support
PDF indexing
Multimedia annotation
Handwritten annotation
Layering, text searches, text extraction, text selection, text highlighting, and form support
Where the wrapper does not meet all needs, a direct JNI interface enables to write a PDF reader from scratch. The library is compatible with PDF1.7 (ISO 32000-1) and previous versions.
Dario Finardi, sales and new product manager at GEAR.it, states, "Radaee Studios produced their library to help developers prepare better applications. Getting a featured PDF reader with a rich set of professional features in their application will now be a quick and simple procedure.
We wanted to address the current lack of a robust and affordable PDF toolkit solution for developers on mobile operating systems. We met Radaee and started a productive collaboration with them. We think PDFViewer SDK is a very effective tool and the great feedback we are already receiving from customers will further optimise the solution to be the best available PDF solution for mobiles."
GEAR.it plans to launch the iOS PDF Viewer and website support on November 7, 2012. The native C++ library has been ported to Apple OS, and Radaee Studios is finalizing the high level Objective-C wrapper.
The PDFViewer SDK is available for licensing directly at the AndroidPDF.mobi website. The SDK is downloadable for free after registration. The demo project and comprehensive documentation will allow programmers to get a complete reader within minutes.
All developers, including those without a commercial license, will find support on the AndroidPDF.mobi forum and via e-mail.
For more product information, a sample code, and the full-featured free SDK, please visit: http://www.androidpdf.mobi.
About Radaee Studios
Radaee Studios (http://www.radaee.com) is a Chinese start-up focused on PDF technology. Radaee's developers are skilled in document management systems, rendering, printing and encryption. Their solutions are adopted in applications distributed all over the world, with major markets in America, Europe and Asia. The Radaee PDFViewer has been ported to desktops and server devices, both on Linux and Windows OS.
About GEAR.it s.r.l.
GEAR.it (http://www.gear.it) is a mobile developer and integrator based in Italy. Over the last ten years, GEAR.it founders developed applications for mobile and embedded markets. During 2005 they were the official market frontend for the leading company PalmSource. At GEAR.it people are always looking for the best technical solutions for simple, concrete answers. PDFViewer SDK is their answer to the need for PDF management on Android and iOS platforms.
© 2012 Radaee Studios and GEAR.it. All rights reserved. PDFViewer SDK is a trademark of Radaee Studios in China, Italy and/or other countries. All other trademarks are acknowledged and remain the property of their respective owners.
Contact
GEAR.it s.r.l., Dario Finardi, phone +39 0522 930142, fax +39 0522 015009, email: tools(at)gear(dot)it