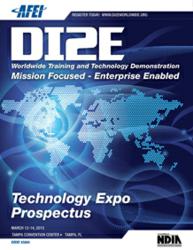 With a focus on delivering information capabilities to the warfighter in an effective and cost-efficient manner, DI2E Worldwide allows attendees to take what they learned back home.
Arlington, VA (PRWEB) October 16, 2012
The Association for Enterprise Information (AFEI), an affiliate of the National Defense Industrial Association (NDIA), is pleased to announce the second DI2E Worldwide Training and Technology Demonstration to take place on March 12-14, 2013, at the Tampa Convention Center, Tampa, FL.
This event, with the theme of "Mission Focused - Enterprise Enabled," will allow those involved in the Defense Intelligence Enterprise to meet and exchange vital information on strategy, policy, requirements, programs, technologies and successes, bringing together program officers, vendors, integrators and users who want to focus on how to best deliver a fully integrated and seamless Global ISR Enterprise.
As the premier professional gathering focused on understanding and evolving the Global ISR Enterprise, DI2E Worldwide brings together professionals who will make ISR capabilities a reality for our warfighters to strengthen the ISR enterprise partnership between DoD and the IC.
"The Defense Intelligence Information Enterprise (DI2E) is the unifying construct between the Department of Defense, the Intelligence Community (IC) and Coalition intelligence information enterprise," said the Hon. Michael G. Vickers, Undersecretary of Defense for Intelligence.
Attendee registration, as well as pre-sales for exhibitors, is now open. Housing will become available on October 15.
In addition to offering the very latest on changing DoD strategy, acquisition and agile operations, this event promises several additional changes and new opportunities for 2013, including:

Expanded Exhibit Time: More time to network with vendors and experience new capabilities and technologies and see demonstrations of DI2E compatibility
The Monster Mash, which will demonstrate the ability of DI2E specifications to facilitate the sharing of data, services and components across industry participants, will feature the Plugfest for exhibitors, and the Mashup Challenge for government teams.
Updated networking opportunities
Innovation Celebration – Tuesday evening, March 12
Tech Trail – Wednesday evening, March 13
Networking throughout the Technology Expo
Sponsored vendor tech demos at participating hotels
More educational sessions
Sessions with top researchers from academia
More coalition partners
For more information, visit the DI2E Worldwide website: http://www.DI2EWorldwide.org.
About AFEI:
The Association for Enterprise Information (AFEI) serves the needs of our members and government partners for focused collaboration on critical problems concerning mission, business and operational information. It is through business, government, and academia alliances that AFEI provides a collaborative platform for interactive ideas and information exchange on the critical enterprise information issues of today. Presently AFEI is facilitating government and industry collaborations with PM-ISE on federated identity, the DoD in the area of the DI2E Industry Advisory Group, and the Agile Defense Adoption Proponents Team (ADAPT) on agile methodology and culture. AFEI serves as a founding member of the Federation of Enterprise Architecture Professional Organizations (FEAPO).
About NDIA:
The National Defense Industrial Association (NDIA) is America's leading Defense Industry association promoting national security. NDIA provides a legal and ethical forum for the exchange of information between Industry and Government on National Security issues. NDIA members foster the development of the most innovative and superior equipment, training and support for warfighters and first responders through our divisions, local chapters, affiliated associations and events.