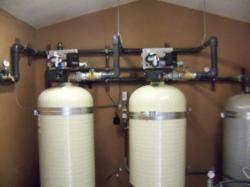 San Luis Obispo, CA (PRWEB) October 06, 2012
Montaña De Oro is one of the largest state parks in California. Marine terrace bluffs, rocky coastline and magnificent coastal mountains make up the park's 8000 acres. The park's name "Mountain of Gold" comes from the golden wildflowers that bloom in the spring. Close to a million people visit Montaña De Oro each year and many stay overnight in the campgrounds.
The campground is served by a water well on site which fills the storage tank and supplies potable water to the campsites and park facility. The well has high levels of iron and manganese, making it unsuitable for drinking and causing tastes and odor problems. Iron and manganese residue were being deposited in the storage tank, pipes and distribution system.
A special type of well water filtration system was designed by Clean Water Systems and Stores Inc to supply the primary storage tank with clean, disinfected, filtered water. John Madonna Construction of San Luis Obispo, a General Engineering Contractor won the contract to obtain and install the new iron filter plant and make improvements to the system. Personnel from Clean Water Systems, and John Madonna Construction worked closed with engineers from the Dept of Environmental Health State of California to insure a proper design and installation.
Unlike many systems requiring a lot of maintenance, the system was designed to be low in maintenance and fully automatic. Water from the well is automatically injected with chlorine to kill bacteria and oxidize iron and manganese, and flows through contact tanks, before being filtered by the Clean Water System's custom Greensand Iron Filters. Due to the specially designed chlorine contact tanks, no potassium permanganate is required, as is common with many standard green sand iron filters.
As chlorinated water flows through the Greensand Iron Filter Systems from the well, iron and manganese are removed. The result is crystal clear, odor-free, disinfected water flowing into the storage tank on demand.
After the water has flowed through the iron filter system for a set number of gallons, the system automatically shuts down and cleans and regenerates the greensand filters. The system uses a unique process which draws clean filtered water from the storage tank to automatically backwash and clean the iron filters. This provides proper flow and pressure to clean the iron filter media, and extends the life of the greensand media by using clean water for back-washing and rinse. The entire process is accomplished automatically and requires no routine maintenance, other than periodically adding chlorine to the chlorine pump solution tank.
"From comments received from the State's maintenance personnel, and the State of California contract administrator, they are extremely pleased with the system and its operation", said engineer Scott Gruber, P.E. of John Madonna Construction.
Demian Ashley, a Certified Water Specialist, and a California Grade II Water Treatment Operator works for Clean Water Systems as a project manager and assisted in the start-up of the new system.
"The system was custom designed from the start to work for their campground and provide a steady flow of high quality water. Demian visited the project several times and did a great job in assisting in the start-up. This is a system that will last for many years", said Gerry Bulfin, President and General Manager of Clean Water Systems.
Clean Water Systems & Stores Inc specializes in supplying custom well water treatment systems for small communities, state and federal parks and commercial sites that use ground and surface water. It has over 8000 customers in over 30 countries and offers custom system design and project management.