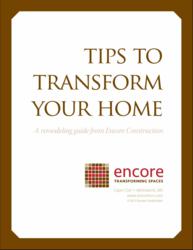 We wanted to share tips from our staff and clients, as well as remodeling photos, to give homeowners the knowledge and ideas they need to lay the foundation for a stress-free remodeling project
Dennisport, MA (PRWEB) October 05, 2012
Encore Construction Company, a design/build remodeling firm serving Cape Cod and Metrowest, Massachusetts, has released a stunning, 31-page ebook entitled "Tips to Transform Your Home." The ebook is illustrated with 25 full-color project photos and features practical information to help homeowners plan for a major home remodeling project. The ebook is available for free online viewing or download at encoreco.com.
According to Dale Nikula, founder and president of Encore Construction, the company was inspired to publish the ebook to help Massachusetts homeowners get complex remodeling projects off on the right foot. "A smooth remodeling project begins with planning, knowing the right questions to ask, and having a vision for your home. We wanted to share tips from our staff and clients, as well as remodeling photos, to give homeowners the knowledge and ideas they need to lay the foundation for a stress-free remodeling project," explains Nikula.
Encore's magazine-style ebook includes tips about what to know before calling a contractor, great sources for design inspiration, questions to ask potential contractors, inside information about avoiding remodeling surprises, inspiration for home remodeling projects, advice from homeowners who have remodeled, and much more. The online ebook features page-flip technology for easy reading, or a PDF may be downloaded for future reference.
In addition to the new ebook, Encore provides a blog and a monthly newsletter to provide useful information, before and after remodeling photos, and new ideas to Massachusetts homeowners who are considering significantly remodeling their homes. Additional information is available at http://www.encoreco.com.
About Encore Construction
Encore Construction is an award-winning design/build group serving residential clients located primarily on Cape Cod and in the Greater Boston area. The company offers both design and construction services, providing clients with single-source accountability, streamlined project delivery and maximum value. The company focuses on all aspects of remodeling, including kitchens, baths and whole house transformations, as well as the construction of custom cabinetry and custom homes. Visit http://www.encoreco.com for more information.