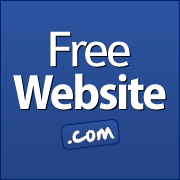 New York, NY (PRWEB) October 05, 2012
The website experts at FreeWebsite.com published a new article today encouraging website owners to avoid paying monthly hosting bills by taking advantage of free web hosting offered with the company's website packages.
"We make getting a website as hassle-free as possible, so we don't even want web hosting to cross your mind," said FreeWebsite.com CEO, Jeff Spicher. "We include free, reliable web hosting with all of our website packages so you don't have to worry about monthly bills or technical mumbo-jumbo."
In the article, FreeWebsite.com emphasizes the importance of reliable web hosting, citing the fact that low-quality hosting can lead to frequent website crashes. The article also shows readers how to take advantage of free web hosting as offered in the company's website packages.
FreeWebsite.com provides complimentary web hosting to all members, regardless of which website package they choose. The company actively monitors servers to address issues quickly and efficiently, and guarantees 99.9% uptime.
About FreeWebsite.com: FreeWebsite.com breaks down barriers to website ownership by providing attractive, easy to maintain websites, complete with content, at a low price. To learn more, visit http://www.freewebsite.com/free-web-hosting/