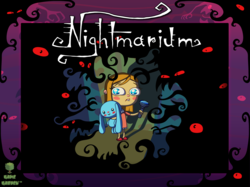 Welcome to your sweet nightmare!
Moscow, Russia (PRWEB) October 10, 2012
A new arcade by Game Garden, a Russian developer of mobile games and educational apps, will spread dread and awe from a child's worst nightmares. The game was created in dark rooms with terrifying whispers and ghostly silhouettes in the corners. The terror is found in every crazy horror sketch and drawing.
Nightmarium is a new game for iOS and Android where the action takes place in a strange room with a sleeping girl. Her dreams are terrifying and full of strange creatures. Being left alone for a second she will wake up, scared to tears. Protect the girl, but try not to be scared yourself! Her room is dangerous – the jaws of the giant monster are transforming into the classroom. An ordinary toy can suddenly mutate into a dangerous beast.
The arcade features the unique game play – nightmare monsters are to be killed by swiping, tapping and shaking, and anything could turn into a powerful artifact. A teddy bear is protecting the girl; a desk lamp is burning all the monsters. There are a lot of different ways to fight nightmares – but the girl has to stay asleep at any cost.
Nightmarium features:

6 dangerous rooms and an option to get into the bonus area;
10 different creatures to fight with;
artifacts to help battle the nightmares;
20 achievements, 7 of them are with secret conditions;
Game Center support for iOS devices.
On October 30th, on Halloween itself, the world of Nightmarium will be replenished with new levels, new monsters and ways to fight them. The champions will be able to compare achievements with their Facebook friends. For more information please visit the official web-site: http://nightmariumgame.com/.
Nightmarium is now available on iOS: http://itunes.apple.com/app/nightmarium/id549553119. The game requires iOS 4.3. or later and is optimized for iPhone 5.
Nightmarium is also compatible with Android smartphones and tablets (Android 2.1 or later): https://play.google.com/store/apps/details?id=com.nightmariumgame&feature=search_result&hl=en
Video Game Trailer: http://www.youtube.com/watch?feature=player_embedded&v=6KioTHbpCnY