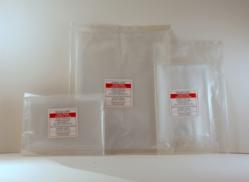 KleenTuff' has added strength, increased puncture resistance, enhanced sealability, ease of opening, greater clarity and greater seam strength. - Eric Swainbank
(PRWEB) October 08, 2012
"KleenTuff" an Amazing Packaging Breakthrough for the Medical and Pharmaceutical Industry
Eric Swainbank, sales manager for Degage Corp is proud to announce the release of "KleenTuff", a Class100 cleanroom, low density barefoot, virgin resin polyethylene blend that is specifically designed for use in pharmaceutical packaging applications where cleanliness levels meeting or exceeding ISO 14644-1 level 100 are necessary. "KleenTuff" excels at the packaging of PET bottles and products by offering the Pharmaceutical industry low cost, high strength and extreme puncture resistance. "KleenTuff" does not contain any additives such as slip agent, anti-blocking agent or antioxidants and "KleenTuff" exhibits excellent characteristics in the area of low ionic contamination, low out-gassing and low non-volatile residue. It does not exhibit the typical characteristics of low density barefoot polyethylene material such as blocking and "KleenTuff" bags and tubing open extremely easily.
"KleenTuff' has added strength, increased puncture resistance, enhanced sealability, ease of opening, greater clarity and greater seam strength. A 4mil "KleenTuff" bag will out-perform and give you increased cost effectiveness over a 6mil low density polyethylene bag. "Kleen Tuff" is available in thicknesses ranging from 2 Mil to 10 Mil.
DegageCorp. Is your "One Stop Shop" for complete clean room (Class100 to Class50) medical, electronic Pharmaceutical and industrial packaging bags, and tubing, specializing in medical grade nylon bags, anti static nylon bags and low and high density medical and industrial polyethylene bags, films and tubing. Our "Medical Grade," Class100 nylon bags are normally delivered within two weeks, and we have the technology to manufacture thin gauge, narrow width (down to 1/2"), low tolerance tubing, for the packaging of catheters and other critical medical devices. Our new Class100 "KleenTuff" film is as strong in 2mil as most 4 mil films, offering superior strength, high clarity, and extreme cost savings. We are dedicated to the manufacture and distribution of an extraordinary line of quality Class 100 packaging films and manufacturing aids, designed specifically to eliminate the hazards of bacteria and harmful particulation, in the packaging of medical, surgical, pharmaceutical and orthopedic devices.
Degage Corp. has launched a newly redesigned website packed with the latest test results and specifications on its superior line of cleanroom bags, tubing and films which can be reviewed at http://www.degagecorp.com
If you'd like more information about "KleenTuff", or to schedule an interview, please call Eric at
972-524-2979 or e-mail him at degagesales(at)aol(dot)com.