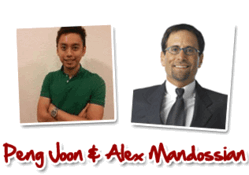 Scottsdale, AZ (PRWEB) October 04, 2012
How can an entrepreneur create predictable, recurring monthly income? Membership Sites Blueprint creators Peng Joon and Alex Mandossian believe they have the answer.
Many profitable businesses like cable companies, magazines, newspapers, health clubs, trade magazines, software companies, mobile phone providers and others rely on something known as the "subscription model" to generate healthy and predictable recurring profits.
Now, two highly respected entrepreneurs have joined forces to create a course called Membership Sites Blueprint which teaches other entrepreneurs how easy it is to use the subscription model to create predictable, recurring revenue.
Peng Joon, a top 100 vendor on the Clickbank network teamed up with direct mail and teleseminar legend Alex Mandossian to create the course after Mandossian asked Joon to help him improve his membership site.
The course tackles some of the biggest challenges with creating membership sites and helps students to quickly overcome them using solutions Joon discovered while creating and publishing several of the most popular membership sites on Clickbank (Clickbank is an affiliate network which as paid out over $2 billion dollars in affiliate commisions to affiliates).
One of the biggest obstacles to creating a subscription-based site or membership site in the past was the need to supply subscribers with fresh content in the form of articles, videos, or audio lessons.
Joon and Mandossian teach simple ways to overcome this obstacle inside the course.
Joon has discovered a simple way to enroll experts to create the content for his membership sites, which are among the top-ranking products offered on Clickbank.
For those that are worried about the technical skill required to create a membership site, Joon, a self-professed non-techie, shows students how easy it is to create and promote their membership sites.
For more information, visit the official site here.
For a review of the course and more information, one can visit MembershipSitesBlueprintsReview.com which is preparing a full review of the course.
Purchasing the course from anywhere other than the official site is not recommended as the official site offers a 60 day money back guarantee to remove the risk for those who want to try the course today.