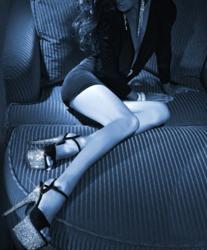 Las Vegas, NV (PRWEB) October 05, 2012
According to Silvie Niggli, the buyer at Feeling USA, high heels have always been in fashion and a big seller for the company. Now the trend wearing high heel shoes has expanded and is bigger than ever. The new shoe collection includes extreme platform sandals with stiletto heels ranging from 6 inches to 8 1/2 inches. The Deluxe collection includes sandals and ankle boots covered with rhinestones, 6 and 7 inch wedge heels, cut out platforms and much more. Wedge heels are more comfortable and a lot easier to walk in.
Feeling USA offers many classic pumps that are a favorite with their customers. Trendy 5 and 5 ½ inch pumps with a mini platform. Sizes range from size 5 to size 16, and some selected styles are available in wide width. The larger sizes are a big hit, especially on Halloween, since many men like to dress up in women's clothes, and it is very difficult to find high heel shoes in over sizes. Female impersonators and cross dressers are happy to find stiletto pumps in their size at Feeling USA all year around.
The new collection also includes non slip mules from Pleaser USA. A new style of platform sandals, named the "Springolator collection", available in 6 inch and 7 inch heels. The shoes are equipped with a magic spring elastic in the middle of the insole to create tension between the foot and the shoe, and to produce a sticking power to ensure that the mule stays securely on the foot. The leather insole provides additional arch support, the padded inner sole and raised toe bar causes minimum traction.
FeelingUSA.com is a large lingerie store on the web, and retails lingerie, corsets, sexy clothing, costumes, bikinis, stockings, bodysuits, and high heel shoes, also specializing in plus size lingerie, as well as leather, vinyl, and latex. The company was founded in 1996 and carries close to 6'000 items in the online lingerie store. FeelingUSA provides secure e-commerce, accepts all major credit cards, and also offers Google and Paypal checkout. Worldwide shipping, free within the US, great prices, lingerie on sale, discounts, free panty, and price guarantee. The team at FeelingUSA Lingerie loves to assist and can help choosing the correct size, shipping methods, and any other question about buying lingerie. FeelingUSA makes it easy to bring sexy back into every women's life.