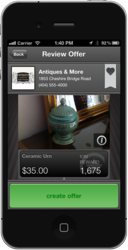 "We took the simplicity of Square, GoPay and other mobile merchant apps and applied it to creating mobile ads for ION."
Bob Burroughs
ATLANTA, GA (PRWEB) October 04, 2012
Sionic Mobile today announced a market first: mobile ads merchants create on their smartphones in a matter of seconds. The newest release of ION Loyalty® for neighborhood merchants uses the phone's camera or saved images for fast and easy creation of product ads. Mobile product ads are becoming a popular alternative to discounts or coupons for attracting new customers with smartphones. Also with this release, merchants can download the ION Loyalty app from their favorite app store and setup their ION account from their phone or tablet in minutes.
"We've reduced what used to be a 10-15 minute online process into a couple of minutes on a mobile device," said Bob Burroughs, VP Product Marketing. "Owners and managers are busy running their business and don't have time to drop what they're doing to setup a new service let alone figure out how to create great looking product ads to help lift sales," continued Burroughs. "We took the simplicity of Square, GoPay and other mobile merchant apps and applied it to creating mobile ads for ION."
There are three steps to creating a mobile ad: 1) Entering a name and description of the product or service; 2) Snapping a photo or using an image saved on the phone; and, 3) Reviewing and submitting. Ads are typically published for nearby ION Rewards users to see almost instantly.
"Growing up, my father used to hang big, hand painted posters in the front windows of his store advertising products he had bought in high quantities at a low price," said Ronald Herman, CEO. "He never discounted his goods, just displayed them well and always made his customers feel welcome," continued Herman. "We see ION Loyalty as a digital evolution of that same, effective product merchandising."
ION Loyalty helps merchants get new customers without discounting, pay as little as possible to take credit cards and keep good paying, repeat customers.
###
About ION
ION Loyalty provides neighborhood merchants free mobile ads, digital mobile payments and simple customer rewards. ION Rewards pays consumers for shopping and dining, paying with their phones, sharing with friends and signing up their favorite places. The apps connect securely in the cloud for immediate and effortless checkouts. Both apps are free and support iOS and most Android devices.