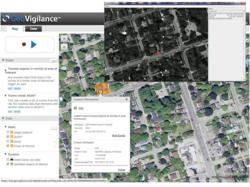 We are excited to showcase our latest version of GeoVigilance at GEOINT 2012.
Alexandria, VA (PRWEB) October 05, 2012
The largest intelligence event in the United States commences at the Gaylord Palms in Orlando, Florida, on October 8th. TransVoyant™ (Booth #416) will be demonstrating its latest complex event processing, visualization, and activity-driven intelligence tools within the comprehensive GeoVigilance™ platform.
GeoVigilance provides cloud-enabled geospatial awareness for real-time decision support and event-driven risk detection. Developed for the intelligence, defense, and global supply chain communities, GeoVigilance combines and monitors real-time data feeds from multiple sources, such as full motion video, weather and aircraft location data. It allows users to create event rules and decision algorithms quickly and efficiently with the ability to change event definitions on demand and send automated alerts to decision-makers or other systems – effectively driving faster and better-informed decisions through the analysis of live location, context, attribute, preference and temporal data.
"We are excited to showcase our latest version of GeoVigilance at GEOINT 2012, which has new capabilities that were requested by senior leadership in defense, intelligence and the global supply chain community," stated Dennis Groseclose, President of TransVoyant. "With a faster, more flexible and easier to use complex event processing engine, GeoVigilance now has enhanced tracking and decision-making features that can ingest live data feeds; automate full motion video analysis; capture and share analysts' workflow and intellect; and monitor large and diverse sensor inputs to drive decisions about complex behavior from single or interdependent dynamic objects in three dimensions."
Scenarios that will be on display at the TransVoyant booth (#416) include monitoring real-time aircraft data feeds as airplanes pass near dynamic Temporary Flight Restrictions (TFRs) along with urban narcotics discovery and intervention using full motion video as the source for both object identification, tracking, live activity-based rule definition and real-time alerting. For more information about GeoVigilance, visit http://www.transvoyant.com/products/geovigilance.
About TransVoyant
TransVoyant solutions are used by business and government customers, providing them with control and enabling decisions using location, time, context, risk and preference variables. The company's solutions provide enhanced outcomes for compliance, risk management, intelligence, defense and logistics support. TransVoyant data fusion tools, predictive intelligence, real-time analytics and supply chain risk programs help customers integrate and visualize both historical and real-time information in fluid and responsive time and space experiences, allowing for smart and timely decisions. TransVoyant solutions help clients process and make decisions about tens of thousands of real-time data points in mere seconds. The solutions are dynamic, flexible, scalable and easily integrated into existing and new data architectures and applications. TransVoyant is headquartered in Alexandria, Virginia. For more information, visit http://www.TransVoyant.com