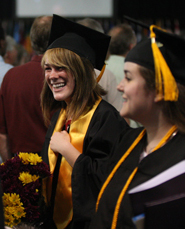 The grant program was a really easy process and it's one of the main reasons I'm still in town.
Marion, IN (PRWEB) October 09, 2012
Grant County has long fought against the brain drain of college graduates, and pursued solutions to help retain a young and educated workforce. A new program called Grant for Grads provides financial assistance to graduates of universities, colleges, or technical schools who agree to live and work in Grant County, Indiana. Just a few months after applications opened, eight young professionals are living and working in Grant County thanks in part to the "Grant for Grads" program.
Grant for Grads is a creation of the Grant County Economic Growth Council, administered by the Affordable Housing & Community Development Corporation. Together, these organizations are working to retain a stable, educated workforce in the community and ultimately make Grant County a better place to "live, work, play, and stay." The Grant for Grads project will provide up to $2,500 and 20 percent of rent to each renter and up to $5,000 to each home buyer.
For some graduates, the Grant for Grads program has been the selling point in their decision to live and work in Grant County. Paul DeLaVergne, 2011 graduate of Indiana Wesleyan University, moved to Marion and began working as an IT professional at IWU upon acceptance into the program. "The grant program was a really easy process and it's one of the main reasons I'm still in town." Grant for Grads has reduced Paul's monthly bills and enabled him to make larger payments on his student loans. "It's going to keep me in town longer. It helps with living expenses enough that it's incentive to stay in Marion."
Not only is the Grant for Grads program beneficial for new graduates, but also for the community. Grant County's newest residents and program applicants are teachers, nurses, engineers, IT professionals, and many others. They represent a variety of employers, such as Taylor University, Indiana Wesleyan University, Marion Community Schools, and Marion General Hospital.
Kyle and Amy Petricek, teachers at Marion Community Schools, were accepted into the Grant for Grads program in May 2012. Steve Edwards, superintendent of Marion Community Schools, is excited to have them on board. "The Petriceks are great teachers and a wonderful young couple. Exactly the type of people we want in Grant County."
Affordable Housing continues to receive new applicants each week. With many slots still open, students are encouraged to apply; up to twenty participants can be accepted in 2012.
For more information on the Grant for Grads program, visit the website: http://www.grantcounty.com/grantforgrads.