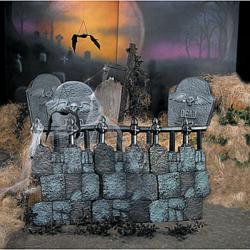 South Whitley, IN (PRWEB) October 04, 2012
The party experts at Shindigz are getting ready for fall by checking out the top seven, Halloween haunted houses in the U.S.
"Every October, millions of people escape reality by visiting Halloween haunted houses," says Keith Bansemer, Director of Internet Marketing at Shindigz.com. "Seven in the U.S. really stand out because of their Halloween decorations and scare factors."
Bates Motel – Glen Mills, PA
The Bates Motel in Glen Mills, Pennsylvania is considered one of the best haunted houses in America. From levitating spirits to pictures that follow your every move, the technical aspects of this haunted house are what make it stand out from the rest. Aside from the motel, there's also a haunted hayride and a haunted corn maze.
The Dent Haunted Schoolhouse – Cincinnati
While some Halloween haunted houses are built specifically for the occasion, the Dent Haunted Schoolhouse is actually a classified haunted building that once housed a murderous janitor named Charlie. Visitors come from all over for the production each year, but some locals warn of the evil that lurks in the building, considering it was where many children were murdered. As for Charlie the janitor, he was never brought to justice. Some believe he still roams the halls of the Dent Schoolhouse.
Bennet's Curse – Baltimore
The winner of multiple "haunted house awards," Bennet's Curse is home to the House of Vampyres, Sanctuary of Insanity and Zombie Kingdom in 3D. It includes scary mazes and lots of paranormal illusions. Visitors will walk through black hallways as they are terrorized by demons and monsters.
Netherworld Haunted House – Atlanta
Atlanta's Netherworld Haunted House is actually two haunted houses in one- the Banshee and the Hive. The Netherworld is two-stories high and has been in operation for 15 years. Since it was created by film and television professionals, it is filled with high-quality special effects and actors.
Spookywoods – High Point, North Carolina
Not just a haunted house, Spookywoods is a complete scream park that includes a corn maze, haunted trail, haunted house and a haunted tram ride. What makes Spookywoods unique is that it's not just a nighttime event. During the day visitors can experience the fun of zip lines, pumpkin patches and more. For more than 25 years, Spookywoods has terrorized its visitors with pyro exploding effects, laser lights and fog machines.
The Asylum – Las Vegas
So scary that there are confirmed stories of people wetting their pants, Las Vegas' The Asylum prides itself in transporting its visitors into an altered reality where they are literally a part of the scene. Twisting corridors and trick walls keep visitors on their toes as they make their way through.
Nightmare on the Bayou – Houston
As if it wasn't scary enough, this haunted attraction is next-door to Houston's oldest graveyard. Workers also claim that the 15,000 square feet in the attraction are literally haunted. Real ghosts are frequently spotted by workers and customers.
About Shindigz
Create your own haunted house with Halloween decorations from Shindigz. Since 1926, Shindigz has "made life more fun" for 22 million events through the manufacture and sale of personalized party supplies. It ships products from its facilities in South Whitley, Indiana across the United States, and around the world to 59 countries. With more than 36,000 products, the company provides customers with a complete party solution. For more information, visit Shindigz.com.