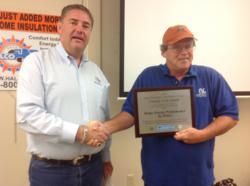 Phelps, NY (PRWEB) October 06, 2012
For the third consecutive year, Halco Heating has won the 2011 Century Club Award from the U.S. Department of Energy and the U.S. Environmental Protection Agency. This award recognizes the contributions of home improvement contractors who have completed more than 100 home energy efficiency improvements with the Energy Star (HPwES) Program.
The Century Club Award is an important milestone in the home performance industry marking the hard word of participating contractors in the rapidly growing industry of providing energy-efficiency services to homeowners.
As a recipient, Halco Heating is recognized as one of only a select few companies who completed more than 100 energy efficiency improvements over the past year. In fact, in 2011, Halco actually surpassed the 100 minimum by improving the energy efficiency of an astounding 278 homes.
Launched in 2002, the HPwES Program reports nearly 200,000 energy home improvements since the start of the program, with more than 60,000 total last year. Contractors participating in the Program receive specialized training to diagnose homes, detecting where energy efficiencies will most benefit homeowners.
Halco Heating has experienced enormous growth since its founding in 1984 as a residential heating and plumbing company. Today they provide high-quality energy solutions including home energy assessments, high-efficiency heating and cooling systems, insulation and air sealing installation, and renewable energy resources. They are also skilled in design-build work and mechanical, electrical, and plumbing projects.
Halco Heating serves both residential and commercial customers in Utica, Syracuse, Rochester, and surrounding central New York State cities.