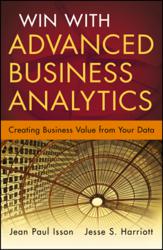 Hoboken, NJ (PRWEB) October 08, 2012
Companies operating on a global scale are inundated with a large volume of data from multiple sources including B2B data, B2C data, traffic data, transactional data, third party vendor data, macroeconomic data, and more. While some businesses don't even know where to start, others are determined to move beyond basic reporting and analysis. New from John Wiley & Sons, WIN WITH ADVANCED BUSINESS ANALYTICS: Creating Business Value from Your Data (October 2012; $60.00), is a complete plain English guide for strategic business analytics and big data implementation. This book tackles the massive assignment of integrating multiple types of intelligence, such as web analytics, customer feedback, competitive intelligence, customer behavior, and industry intelligence into a business practice.
WIN WITH ADVANCED BUSINESS ANALYTICS defines business analytics as the integration of disparate data sources from inside and outside the enterprise that are necessary to answer and act on forward-looking business questions tied to key business objectives. Though business analytics is a relatively new field, it has the potential for great organizational impact and importance, much beyond the traditional reporting function, research department, or "business intelligence" activities. Effective business analytics is a focus for business leaders across the globe in ever-increasing numbers. It is becoming clear that in today's cut-throat business climate, failing to leverage business analytics effectively can mean the difference between organizations thriving or declining. Win With Advanced Business Analytics covers:
•The Challenge of Business Analytics
•The BASP Framework
•Aligning Key Business Challenges
•Data Visualization
•Social Media Analytics
•Analytics and Innovation
•Analytics Implementation
•Voice-of-the-Customer Analytics
•Leveraging Digital Analytics Effectively
•Winning with Predictive Analytics
•Business Performance Tracking
•Unstructured Data Analytics
The need for advanced business analytics is exploding. A 2011 report by the McKinsey Global Institute projects that the United States needs 1.5 million more data-literate managers to meet the demands of the data-driven enterprise, and a recent International Data Corporation (IDC) report predicts that the business analytics market will grow to $33.9 billion. Written by an author team with successful analytics implementation experiences across North America, Europe, Asia PAC and Developing Markets, WIN WITH ADVANCED BUSINESS ANALYTICS provides a comprehensive framework and applications to help readers leverage business analytics and big data to outpace the competition.
ABOUT THE AUTHOR:
Jean-Paul Isson (Montreal, Canada; Cary, NC) is an internationally recognized speaker and an expert in advanced business analytics. He is the global vice president of business intelligence and predictive analytics at Monster Worldwide, Inc., parent company of Monster®, the worldwide leader in successfully connecting people to job opportunities. From the web, to mobile, to BeKnown™ on Facebook, Monster helps companies find people with customized solutions using the world's most advanced technology to match the right person to the right job. With a local presence in 55 countries, Monster connects employers with quality job seekers at all levels, provides personalized career advice to consumers globally and delivers vast, highly targeted audiences to advertisers. Mr. Isson has built his global team from the ground up and successfully conceived and implemented global customer scoring and segmentation, predictive modeling, and web-mining solutions for Monster across North America, Europe, Asia-Pacific, and emerging markets. Prior to joining Monster, Isson led the global customer behavior modeling team at Rogers Wireless, where he pioneered advanced business analytics, including conjoint analysis for new price plans offering and the Customer Life Time Value (CLTV) Segmentation that is being used to prioritize customer services sales and marketing activities. He started his career as a statistician and holds an MS in Mathematics and Applied Statistics. He is a guest Lecturer at McGill University and Concordia University.
Jesse S. Harriott, PhD (Jaffrey, NH), has been a research and analytics professional for more than twenty years and has held various client- and supplier-side analytics leadership positions. He is currently Chief Analytics Officer at Constant Contact, a marketing solutions company that helps over 500,000 organizations generate repeat business and referrals through email marketing, social media marketing, event marketing, local deals, and online surveys. Prior to Constant Contact, Harriott was the Chief Knowledge Officer for Monster Worldwide, where he conceived and built a global analytics business division focused on the human capital marketplace in the United States, Europe, and Asia. Dr. Harriott also pioneered the creation of the Monster Employment Index, the first measure of online recruitment activity, which is currently in more than thirty countries and is followed by millions of people each month. He also led web analytics, business intelligence, competitive intelligence, data governance, marketing research, and sales analytics departments for Monster. Prior to Monster, Dr. Harriott created an analytics consulting practice for the e-commerce company Gomez, Inc., where his team led projects for Internet start-ups and well-known brands, including Orbitz.com, WebMD, and Fidelity. He has advised many private and public organizations regarding analytics and labor market issues, including the White House, the Department of Labor, the European Commission, the Federal Reserve, the National Governors Association, the Clinton Global Initiative, and various United States senators. He has authored several publications, including as co-author of the book, Finding Keepers, which has been published in North America, South America, Europe, and Asia, and discusses the challenges faced by companies in today's talent market. Dr. Harriott also taught at the University of Chicago and holds an MA and a PhD in Experimental Psychology from DePaul University. He has appeared in various media outlets including CNBC, The Wall Street Journal, The New York Times, CBS radio, Bloomberg, and Reuters. He has also won several awards including the Platinum Award from PR News and an Ogilvy Award from the Advertising Research Foundation, and he was named by Boston Business Journal as one of Boston's top 40 under 40.
WIN WITH ADVANCED BUSINESS ANALYTICS: Creating Business Value from Your Data
Published by John Wiley & Sons, Inc.; Publication date: October 15, 2012; $60.00; Hardcover; 416 pages; ISBN: 978-1-118-37060-5