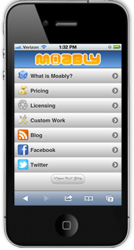 Start your own mobile technology company for only $200 per month.
Charleston, SC (PRWEB) October 09, 2012
Do-it-yourself mobile website builder, Moably, is beta testing the white label licensing of their technology. Businesses that license Moably's mobile website builder technology can start their own mobile company or add a new product to an existing line of tools.
The number of people browsing the mobile-web has doubled from 2011 to 2012. Experts say that by 2014 more people will use their phones to access the internet vs. using a desktop or laptop computer. The mobile web is going to affect companies worldwide, whether they are ready for it or not. Industry leaders like Google, with their GoMo initiative, and Moably recognize this and have been actively delivering this message to website owners. Moably has taken the industry to the next level by allowing companies to license their technology in order to offer their clients a branded D.I.Y. mobile website builder solution.
"We have automated our white label licensing process. This will cut back on the ramp up time it takes our resellers to make money, while keeping the monthly licensing costs to a minimum. For only $200 per month, anyone can start a mobile technology company or add a D.I.Y. mobile website builder solution to their current inventory," said Adam DesAutels, Founder & CEO of Moably.
For more information about licensing Moably's technology, please visit: http://support.moably.com/beta or view a working example of their license.
About Moably
Moably is a rapidly growing international mobile technology company. They build technology that allows businesses, worldwide, to easily create mobile websites, blogs, applications, and mobile online stores. No technical skills required.
Moably's first product, a mobile website builder, allows anyone to create a mobile version of their website and blog with no coding required. Five easy steps using Moably's Mobile Web App Builder will produce a quality mobile website, blog, and mobile online store.
Their second product is a "Build Your Own Mobile Website Builder". This product allows people and companies to license Moably's technology in order to create, manage, and maintain a white label version of Moably's mobile website builder.