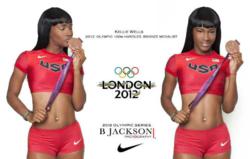 I will continue to inspire and be inspired.
San Francisco, CA (PRWEB) October 04, 2012
If you missed the heart-breaking story of Kellie Wells when it was previously aired you can now go to the ESPN website. Kellie Wells was featured on ESPN's E:60 episode with Lisa Salters. Her dark past was on display and her will to keep going will be before us all watching.
In the summer of 2011, Wells also went public with another heartbreaking struggle she faced – being sexually abused by her mother's boyfriend. Wells moved out of the abusive house in the 10th grade and a few weeks later her mother passed away in a car accident. Wells unknowingly drove past the accident site on her way home, not realizing her mother was in the wrecked car.
When you finish watching you will see what drives Kellie Wells as an athlete and why is she before us today. So many don't know the story or understand the path an athlete takes towards becoming a winner in your eyes.
http://espn.go.com/video/clip?id=8424859
E:60 episode features Ray Lewis and Matt Kemp as well.
ESPN's award-winning news magazine, E:60, originally aired on Tuesday, Sept. 11, at 7 p.m., with an episode that features Baltimore Ravens perennial Pro-Bowler Ray Lewis (reporter Rachel Nichols), LA Dodgers All-Star Matt Kemp (reporter Chris Connelly), and US Olympian Kellie Wells (reporter Lisa Salters), who overcame a tragic childhood to medal at the recent Summer Olympics in London.
After suffering a heartbreaking injury at the 2008 Olympic Trials where she was unable to compete in the finals due to a hamstring tear, Wells made an impressive comeback in 2011 by winning her first outdoor and indoor national titles, and dominating the top marks lists. Wells' winning time of 7.79 at the 2011 USA Indoor Championships was the No. 1 time in the world for the year, and at the time gave her the nine fastest times in the world.