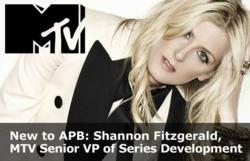 Boston, MA (PRWEB) October 05, 2012
MTV executive Shannon Fitzgerald - who has worked on such shows as 'The Simple Life,' 'Big Brother,' and 'Keeping Up with the Kardashians' - is available for speaking engagements through Boston-based American Program Bureau, a global speakers bureau that represents high-profile entertainers, executives, and thought leaders.
Fitzgerald plans to speak to college audiences, in particular, on the topic "From Teenage Runaway to the Boardroom: An MTV Executive's Guide to the REAL Real World." She also speaks on women's leadership, and shares the personal story of how she went from teen runaway to television executive to author (she is currently writing her first book, 'The Accidental Executive,' based on her popular blog of the same name).
Organizations who are interested in bringing keynote speaker Shannon Fitzgerald to speak at their next event should contact American Program Bureau at 800-225-4575.
About American Program Bureau (APB):
In business since 1965, American Program Bureau represents a roster of high-profile speakers from entertainers and politicians to thought leaders and academics. Learn more about APB at apbspeakers.com or find APB on Twitter @apbspeakers.