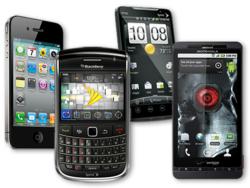 Brighton, Manchester, Leicester and London top list of mobile phone theft hotspots
(PRWEB UK) 5 October 2012
In a recent survey Protect your bubble found the top 20 UK mobile phone theft hotspots by comparing the number of theft claims to a national average. The figures revealed that people in Brighton are 4.4 times more likely to have their phones stolen while those in Manchester are 3.8 times more likely. Mobile phone owners in Leicester and Belfast are three and a half times more at risk of falling foul of thieves, while Londoners are 3.4 times more likely to be victims.
Claims data from Protect your bubble also reveals that women should be especially cautious as females (53%) are more likely than men (47%) to have their mobiles stolen.
Police figures suggest that as many as 300,000 phones are stolen each year from across the UK as a whole. However, Protect your bubble believes that 63% of people are carrying uninsured mobile phones, and are less likely to report them if they are stolen. As such the actual number of phones stolen could be much higher.
Indeed, with 92% of Britons owning a mobile phone, mobile theft remains one of the most reported crimes in the country.
Stephen Ebbett, director of Protect your bubble, comments: "Mobile phones are easy pickings for thieves who know that people talking or messaging are distracted and unaware of what's going on around them. A big concern is that claims from people who have had phones snatched by thieves that have mounted the pavement on bicycles and motorcycles are growing."
"Being a victim of mobile phone crime can be distressing, inconvenient and the phone expensive to replace, particularly smartphones which can cost upwards of £400. Many expensive handsets come 'free' with monthly contracts, so people may not be aware of their true value. But when they try to buy a replacement they soon realise the true cost of them. Mobiles are expensive gadgets that should be properly insured"
Ebbett continues: "As for keeping yourself and your phone safe, try to keep your mobile out of sight when out and about. If you have to make a call in public, do it with your back to a wall so you can see what's going on around you and so the phone cannot be snatched from behind. If you're in a pub or restaurant, don't leave your phone on the table where it can be easily snatched by opportunist thieves.
"Write down the phone's IMEI number, and use an ultra-violet pen to mark the handset and battery with your postcode and house number. Make use of the phone's security lock or PIN system. If your phone is stolen, block the phone with your airtime provider as quickly as possible and report the theft to the police, asking for a crime reference number."
Research conducted using Assurant claims data between, September 2011 and September 2012
Sourced from the Guardian website, Jan 2012
guardian.co.uk/money/2012/jan/20/phone-snatchers-iphones-thieves-bikes
Survey of 2000 respondents by OnePoll in May 2012
Sourced from Ofcom website 25 September, 2012
About Protectyourbubble.com:
Online lifestyle insurer Protect your bubble aims to simplify the process of taking out personal insurance – from buying a policy to making a claim.
iPhone insurance costs £5.99 a month. The excess for the iPhone is £50 (plus an additional £25 excess for loss claims). Discounts are offered to those who buy cover for multiple gadgets. Worldwide cover for 90 days is offered as standard, and loss cover can be added for an extra £1 per month. Customers also receive 60% off Tagback's return and reward service for one gadget.
Quotes can be obtained for your gadgets via the following URLs:
Mobile Phone Insurance: uk.protectyourbubble.com/gi-mobile-phone-insurance.html
iPad Insurance: uk.protectyourbubble.com/ipad-insurance.html
iPhone Insurance: uk.protectyourbubble.com/ip-iphone-insurance.html
Find Protect your bubble UK on the following social networks:
Facebook: facebook.com/ProtectYourBubble
Twitter: twitter.com/protectyrbubble
YouTube: youtube.com/protectyourbubble