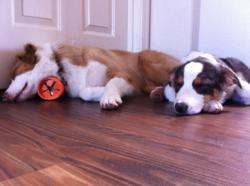 Crinkits dog toy wins a $5000 innovation award!
Cincinnati, OH (PRWEB) October 09, 2012
Cincinnati Innovates is an open competition for anyone with an idea having ties to Cincinnati. Eleven prizes totaling $100,000 were awarded during this year's competition. Crinkits dog toy won a $5000 video award from 7/79, who is a leading video production company located in Cincinnati Ohio. Zigoo and 7/79 will come together to tell the Crinkits story through video.
Crinkits inventor and entrepreneur, Zach Day, took notice of his dog Snoop's love for playing with and destroying water bottles and was inspired. Crinkits water bottle dog toy turns useless empty water bottles into a more durable and highly interactive dog toy. It's patented design is a pliable cover that fits snug around an empty water bottle. Crinkits are made in the USA, float, and are very easy to rinse clean. From Labs to Bulldogs and every dog in-between, it's love at first "crink."
First introduced in the Midwest last August, Crinkits are now sold in over 400 independent pet stores all over the US and Canada. The original Crinkits fits around a 16.9oz water bottle and is 9.5" long. A new 8oz Crinkits size was introduced this month and is 5.5" long. Along with orange, green, pink, and blue, Crinkits can sometimes be found in glow-in-the-dark.
Crinkits received great feedback after being the featured toy in Barkbox for medium and large dogs in September. During the month of October, Crinkits sits on top of the best sellers list for toys on In The Company of Dogs website. If your dog loves chewing on water bottles then Crinkits could become their favorite toy.