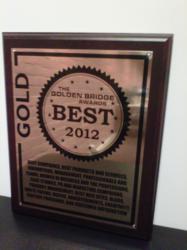 These awards are a testament to Wombat's commitment to help Fortune 1000 companies effectively train their work force against the most current threats.
Joe Ferrara
President and CEO Wombat Security Technoloiges
Pittsburgh, PA (PRWEB) October 04, 2012
Wombat Security Technologies has earned the prestigious Gold status in the Golden Bridge Awards for the company's Security Training Platform. The coveted annual Golden Bridge Awards program with active participation from a broad spectrum of industry voices, encompasses the world's best in organizational performance, products and services, innovations, executives and management teams, women in business and the professions, case studies and successful deployments from every major industry in the world. Organizations from all over the world are eligible to submit nominations including public and private, for-profit and non-profit, largest to smallest and new start-ups.
Wombat's comprehensive "Security Training Platform" enables security officers to effectively and measurably train their employees about today's most pressing cyber security issues including phishing, e-mail security, password management, social networking, smartphone/BYOD vulnerabilities, and social engineering. Wombat's proven training methodology, based upon learning science principles, includes employee mock attacks with brief embedded training, as well as a full complement of 10-minute software training modules which change employee behavior and significantly reduce an organization's susceptibility to cyber-attack. Reporting capabilities in the Platform provide both aggregate and individual data to guide follow-up training programs, and show improved results over time.
More than 40 judges from a broad spectrum of industry voices from around the world participated and their average scores determined the 2012 Golden Bridge Business Awards winners. The winners were honored during the awards dinner and presentation on October 2, 2012 in San Francisco attended by the finalists, industry leaders, and judges.
"It's an honor to be named a Gold status winner by Golden Bridge Awards for this esteemed industry award," said Joe Ferrara, President and CEO of Wombat Security Technologies. "As highlighted by recent news employees have become the target of choice by attackers, and the industry has recognized that employees must be better prepared as part of a holistic cyber security training program. These awards are a testament to Wombat's commitment to help Fortune 1000 companies effectively train their work force against the most current threats."
"We're pleased to see Wombat receive this award and applaud their success in helping companies take proactive measures against increasing cyber security attacks with a highly effective security training platform that incorporates all the most up-to-date modules, including the industry's first USB attack simulation service," said Rake Narang, Co-President of Golden Bridge Business and Innovation Awards.
About the Golden Bridge Awards
Golden Bridge Business and Innovation Awards are an annual industry and peers recognition program honoring best companies in every major industry from large to small and new start-ups in North America, Europe, Middle-East, Africa, Asia-Pacific, and Latin-America, Best New Products and Services, Best Innovations, Management and Teams, Women in Business and the Professions, Case Studies, Customer Satisfaction, and PR and Marketing Campaigns from all over the world. Learn more about The Golden Bridge Awards at http://www.goldenbridgeawards.com.
About Wombat Security Technologies
Wombat Security Technologies helps organizations combat cyber security threats with uniquely effective software-based training solutions. Wombat offers fully automated, highly scalable software-based training solutions, built on learning science principles. They offer mock attacks with brief embedded training, as well as a full complement of 10-minute software training modules. Wombat's training solutions have been shown to reduce employee susceptibility to attack by up to 70%. Wombat is helping Fortune 500 customers, large government agencies and small to medium businesses in segments such as finance, banking, higher education, retail, technology, energy, insurance, and consumer packaged goods strengthen their cyber security defenses. For more information visit http://www.wombatsecurity.com or contact Lorraine Kauffman-Hall at 704-882-0443 or lhall@attainmarketing.com.