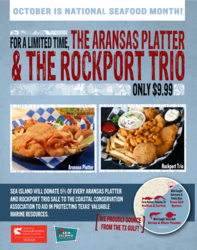 Supporting Coastal Conservation Association during National Seafood Month is a natural fit for our business
San Antonio, TX (PRWEB) October 05, 2012
Sea Island Shrimp House, one of the best seafood restaurants in San Antonio, Texas, recently announced that they are raising funds for the Coastal Conservation Association (CCA) of Texas in honor of National Seafood Month. During the month of October 2012, the restaurant is bringing back two of their most popular limited time offers--the "Aransas Platter" and the "Rockport Trio," each $9.99, and will donate five percent to the Coastal Conservation Association Texas (CCA) for every platter sold in the month of October at all six area locations.
"Supporting Coastal Conservation Association during National Seafood Month is a natural fit for our business," said Barclay Anthony, CEO of Sea Island Shrimp House. "We invite everyone to come in and try one of our featured seafood platters and help donate to the conservation of our Texas coasts."
Coastal Conservation Association Texas is a non-profit marine conservation organization comprised of tens of thousands of recreational anglers and coastal outdoor enthusiasts. CCA aids in protecting Texas' valuable marine resources, conserving, promoting and enhancing the present and future availability of these coastal resources for the benefit and enjoyment of the general public .
Sea Island Shrimp House specializes in the freshest seafood in Texas. They serve fresh, delicious seafood for the whole family, including local favorites like Lemon Pepper Fish, Wild Caught Texas Gulf Shrimp & Flounder, oysters, shrimp dishes and more. For more information about Sea Island Shrimp House, including its history, menus, lunch specials and hours, visit their website at http://www.shrimphouse.com.
About the company:
Sea Island Shrimp House, a San Antonio icon, has been sourcing and serving the freshest, wild-caught Texas Gulf seafood since opening their first location in 1965. The restaurant's family-friendly atmosphere, delicious food and affordable prices has made this a San Antonio favorite for more than 47 years. Family owned and operated from the beginning, the six San Antonio locations serve only premium fresh seafood that feature scratch cooking and a passion for flavor and value. Sea Island Shrimp House is known for food that is simple, fresh, fast and affordable. San Antonio agrees -- Sea Island has been voted "Best Seafood Restaurant" in the San Antonio Express News' Reader's Choice Poll since it began 2001! For more information visit their website at http://www.shrimphouse.com.