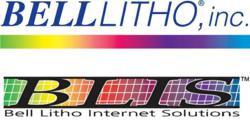 Organizations can deliver their brand message with greater coherence and relevance than ever before--directly from their browsers!
Elk Grove Village, IL (PRWEB) October 05, 2012
Chicago's Bell Litho, Inc (Bell Litho) and Bell Litho Internet Solutions(BLIS) will exhibit jointly at Shopper Marketing 2012 in Chicago this fall.
The Shopper Marketing Expo will be held on October 17-19 at Navy Pier. Shopper Marketing Expo addresses the changes that consumers are taking on their paths to purchase, and their changing decision making. Technology is altering the way shoppers interact with products on the shelf, and Shopper Marketing Expo focuses on the in store effects.
"This is BLIS' third year at Shopper Marketing," says BLIS Marketing Director Josh Kiem. "This year, we've expanded our presence to demonstrate Bell Litho's one-source solutions, beginning with content management through fulfillment. Bell Litho and BLIS are team players that our customers depend on for creative and cost-effective printing solutions."
Bell Litho is a full service printing operation with offset, digital, large format and flexographic capabilities. From small post cards to large banners, Bell Litho has been a leader in Chicago's brutally competitive printing market since 1965.
BLIS' flagship product SpeedMarketing, a Web-based brand management tool that balances headquarters' centralized brand discipline with field marketing's local market relevance, serves commercial customers with greater than 99.99% uptime reliability. BLIS also offers ePrint3®, an advanced online enterprise ordering site for print and distributed materials, as well as custom software consulting and development services.
"As in the past, BLIS will feature SpeedMarketing®, our patented system designed to accelerate and target the communications of national, regional or local brands," says Kiem.
"SpeedMarketing® is a fast, affordable tool that makes companies' marketing more nimble," he adds. "We deliver real benefits within a month. SpeedMarketing® costs less than one good graphic designer, and leverages our clients' creative properties and talent. With SpeedMarketing, the pre-store and in-store campaigns can work together in new ways."
"With BLIS's products and support, and Bell Litho's ability to execute print across a variety of formats, organizations can deliver their brand message with greater coherence and relevance than ever before," says Kiem.
Since its founding on Chicago's legendary Printers' Row in 1965, Bell Litho has evolved from a pre-press house to a family of service-oriented, technology-driven companies serving businesses large and small. Today Bell, a privately held firm, continues its tradition of technological innovation to offer a broad choice of options for producing, managing and distributing digital and print communications.
BLIS, the technology division of Bell Litho, Inc., has been awarded four US patents for innovations designed to help businesses improve brand management and take advantage of web-to-print capabilities. Additional patents are pending. Speed Marketing and ePrint3 are registered trademarks of Bell Litho, Inc. BLIS is a trademark of Bell Litho, Inc.
For more information on Bell Litho or Bell Litho Internet Solutions (BLIS), contact Josh Kiem at 847-952-3300 or visit http://www.bell-litho.com and http://www.bell-blis.com.